Ava, Oprah, Kanye, Grace, Spike, and Tyler.
(ThyBlackMan.com) Hollywood, one of the prime cities for television and music, amongst other forms of entertainment is at the heart of mass media. Time and time again, the portrayals of black people have always been manipulated in anunkind way, and even if they are somewhat shown positively at first glance, subliminal messages prove otherwise. In spite of this, some black celebrities do their best to make an impact on their community even if that means taking things in their own hands. This paper will highlight some black celebrities who I believe have a positive, negative or neutral influence on the black community based on the work they do.
Ava DuVernay is a female director, screenwriter and producer and she directed 13th the documentary, Queen Sugar and A Wrinkle in Time among others. It's very evident that there are very little black people behind the camera and DuVernay shows that it is not impossible. Her documentary 13th exposed what happens in the criminal justice system, businesses who supports prison funding in hopes of making a profit and the way the prison population (especially with black bodies) rose tremendously with the changes in presidents."DuVernay harbors a deep, personal objection to the way the criminal justice system has been exploited to churn through black and brown bodies" (McDonald, 2016).
A Wrinkle in Time is a Disney movie adapted from the book by Madeleine L'Engle. Usually in Disney movies, all the Fenty Beauty princesses or main character is always white. Here, the main character played by Storm Reid was a black girl and the fairy godmother (Oprah Winfrey) was a black woman. Before she started the film DuVernay said "we're going to black woman-ify it" (Ryzik, 2018) and indeed she did. She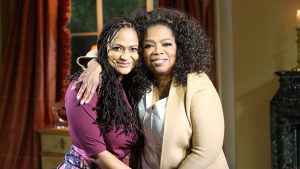 mentioned that the book was hard to adapt into a movie as she wanted it to be a solid "coming of age saga". "That's why I frigging did it, because it was hard" (Ryzik, 2018). DuVernay is definitely an inspiration in the black community. She is not only trying to educate the public about topics that are usually hushed but also showing black people that nothing is impossible, and the color of your skin should never limit anyone.
Oprah Winfrey is an absolute powerhouse and it seems as if almost all black people look up to her. Who wouldn't? She has done prolific things for so much people. As a child she suffered horrendous pain and loss. That spanned from her being neglected by family members, to being molested by uncles and eventually getting pregnant butthe baby died after birth. Despite her struggle, she used her strength and built and empire as she progressed throughout life. She built a high school in South Africa, Leadership Academy for Girls, that is aimed at enrolling black girls to give them a shot at life. When talking about the girls at the school, Oprah said "when I look at them, I see them, I see who they are, where they came from. I see the potential—who they can be, because I'm looking at myself".In addition, she mentioned on her social media that she never had kids after her loss but the girls at the school felt like they were all her own.Stories like these give women or anyone for that matter, hope. In so many cases, when women in general are sexually abused, they stop trying or believe there is no life after abuse. Then again, everyone handles situations differently, but this helps to show that as hard as it might be, there is no wrong in brushing off even if you fall a thousand times.
Kanye West is very talented and smart when it comes on to his music, but often times the things he says screams the opposite. He tends to comment on numerous controversial topics and these comments would make anyone question his thought process. He had an interview at TMZ and stated "when you hear about slavery for 400 years … For 400 years? That sounds like a choice" (Kaur, 2018). Further, he publicly supports Trump, and is always wearing his hat about "Making America Great Again". At the end of the day, supporting a political party is a personal choice but if that party is only fighting for more rights for upper social class people or white people in general, then it is a problem, especially when the party doesn't care for black people, which Kanye is a part of. On another occasion, when Bill Cosby was accused of sexually assaulting multiple women, he tweeted "Bill Cosby Innocent!!" (Jones, 2018). No one understood if he was just trying to see the best in a black man but so many women would not tell such lies. Kanye is a negative influence on the black community. He makes a profuse amount of irrational commentaries on very serious issues and a lot of youths are influenced by the things he says or do. So, if he keeps making these statements, others are going to regurgitate what he says because they will think what Kanye says is acceptable.
Grace Hamilton widely known as Spice is a Jamaican dancehall artiste. She's the top female dancehall artiste in Jamaica and started gaining a larger foreign fan base after she joined the cast of Love and Hip-Hop Atlanta. She is a negative influence on black people because her songs and music videos are heavily sexualized. Often times, other women complain about women being objectified by men especially in music videos, but some women just as much do the same. And this puts other artistes in this as well. Artistes like Cardi B, Nicki Minaj, Tyga and Jason Derulo. And not only do they oversexualize women, they also idolize material things. Whether that is showing off the brands of their clothes, how much the chain they wear cost, the number of cars they have amongst others. "Mass media created a seemingly authentic Black American culture that glamorized drugs, violence, and hypersexuality" (Acharya, 2015). It's quite evident that black youth listen to rap music heavily and they are influenced by all these negativities and they will find ways to make it like the rappers have, despite the fact of how they will reach this "achievement". (See Acharya, Monica, 2015).
The whole Spike Lee and Tyler Perry "debate" over who makes better films is yet another thing that needs to be delved into. They both contribute to the black community in different ways. In the aspect of the positivity of their films or TV shows, Spike Lee is definitely the guy. Once again, he is another black film maker/ director who wants to educate the audience through his films. "Spike Lee's films have remained timeless not because of the need for a hero or because someone came and 'fixed' racism. It's the importance of merely existing as a Black person or as a POC in the face of hardship, every day, no matter what" (Giron, 2018). This generation spends so many hours staring at their screens, so having so much substance in his movies is a great way to reach and educate the public. Lee portrays black people in such a positive light and gives a lot of history simultaneously. And learning while watching Lee's films makes the audience more aware.
On the other hand, Tyler Perry makes movies that are very stereotypical of black people, but he does good otherwise. In his films, he really does show a lot of "coonery and buffoonery" (Lewin, 2019) and the audience see it as comical without even realizing that it is more stereotypical than funny. It is understandable that black people will support other blacks through it all, but it should never in a case where the "dominant" race is ready pass judgements and make assumptions about all black people. Perry definitely doesn't make a good impact on the black community through his movies, but he gives a helping hand in other areas. He has a foundation called Charity: Water where he donates "funds to bring clean water to an estimated 65,079 people across four countries, including nine communities in Ethiopia, four in Haiti, one in India, and six provinces in Cambodia" (2019).So overall, Perry has a neutral impact on the black community.
Tiffany Haddish is another person who insofar has a neutral impact in hopes of having a positive influence on the black community. A lot of the roles she plays are very exaggerated. Some makes her look even vulgar to the point where "some call her behavior ghetto and attention-seeking" (Germain, 2018). It is known that it is hard to break into the comedy world and she is trying her best, getting gigs here and there but she doesn't deserve to be bashed for trying. "Haddish has the ability to bring her most authentic self into creative spaces. It's something we can all learn from. We shouldn't bring her down for it, especially because there are already so few Black women in the entertainment industry that represents us" (Germain, 2018). Regardless that people see her as vulgar, maybe that's who she is. We should not expect her to change who she is or make herself smaller to fit into cultural norms.
Serena Williams and Rihanna are two underrated black women who are in fact very powerful and are breaking all barriers possible. They both have a strong impact on the black community. Rihanna is from a small Caribbean island Barbados, and she aspired to work so hard her name would be known everywhere and she did exactly that. She "will become the first woman to create an original brand at LVMH Moët Hennessy Louis Vuitton, the world's largest luxury group" (Friedman, 2019). Most make up brands only have so many shades for people, but Rihanna created her Fenty Beauty makeup line with all the shades you can think of. Black people are so unique in so many ways, through complexion, hair among many other physical attributes and this make up line was necessary, where "women everywhere could be included" (2019).
Serena Williams, the other powerhouse has constantly been pulled down because the white society find it so hard to believe that a black woman could be that good. The more they pull her down, the more she rose. She is absolutely flawless even in her losses like "two weeks into her comeback, seven months after giving birth" (MacInnes, 2018) where she yet again encountered another set of nonsense. She had to enter the opening "as an unseeded player…despite the fact that she left for her maternity leave as the women's world no. 1" (MacInnes, 2018). This will keep happening, but everyone knows that no matter what, she is the greatest of all times.
Mass media is a powerful source in both its progressive and harmful ways. It exposes such a wide array of issues, motion, information and pictures. It sways us in one way but it's always up to us see beyond what is directly in front of us. Blacks have been oppressed by the media much more than they should be. Some of the black people mentioned above (among countless others) deserve so much more credit that is not given to them and I believe it is up to us, in the black community to uplift and give them the praise they truly deserve. The black community really doesn't have much influential people to look up to, so the positive ones that are present should be celebrated.
Sources;
https://theundefeated.com/features/ava-duvernay-documentary-netflix-prison-movie/
https://www.nytimes.com/2018/03/01/movies/a-wrinkle-in-time-ava-duvernay-disney.html
https://www.youtube.com/watch?v=H8Y8TZH_PBQ&feature=youtu.be
https://www.cnn.com/2018/05/01/entertainment/kanye-west-slavery-choice-trnd/index.html
https://www.buzzfeednews.com/article/marcusjones/kanye-west-controversies-timeline
https://medium.com/@moni_ach/how-are-hip-hop-and-rap-music-affecting-the-youth-4b4a03b03236
http://tylerperry.com/tyler-perry-brings-stability-to-developing-communities-through-charity-water/
https://junkee.com/spike-lee-race-in-movies/184141
https://www.theblackprintau.com/blog/2018/5/2/why-doesnt-tiffany-haddish-get-to-be-unapologetically-black-af-enkra
https://www.nytimes.com/2019/05/10/fashion/rihanna-lvmh-fenty.html
https://www.theguardian.com/sport/blog/2018/mar/21/serena-williams-mother-tennis-hate-criticism-baby
Staff Writer; Shakeem Grant