The team that is just right for Colin Kaepernick.
(ThyBlackMan.com) This has been another historic Black History Month in sports. The passing of baseball pioneers Frank Robinson and Don Newcombe allowed sports fans to reflect and learn about their outstanding careers while Brehanna Daniels made history as the first African-American female tire changer to pit in a NASCAR national series during this month's Daytona 500. One of the biggest stories was Colin Kaepernick and Eric Reid settling their joint collusion grievance with the NFL. Kaepernick has become more known for his social activism and national anthem protest than anything he did on the football field despite being a star in college at Nevada and nearly being a Super Bowl winning quarterback with the San Francisco 49ers. Unfortunately, he remains unemployed as a professional football player despite being only 31 years old. With the NFL grievance in the rearview, it would be smart for the Carolina Panthers of the NFL to sign Kaepernick for multiple reasons.
Colin Kaepernick is not done playing football. According to his lawyer, Mark Geragos, Kaepernick has not given up on playing in the NFL again despite not playing during the 2017 and 2018 NFL seasons. Upstart and brand new professional football league Alliance of American Football reportedly tried to get him to play in their league but balked at his "reported" ask of $20 millions or more to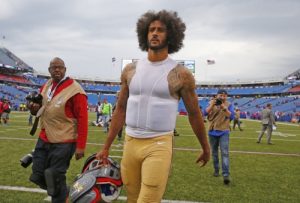 play. Whether that was true or not, it is undeniable that he would have been by far the most famous football player to play in that league and would have drawn a ton of attention from the media, his supporters, his detractors, and people curious about what he would do prior to the game during the national anthem and his performance against lesser competition. His brand, aided by his new position by Nike, makes his "reported" ask of $20 million or more understandable from that standpoint by ultimately that league is below his talent level with all due respect to the athletes that are there.
It might make sense for other people to think that Colin Kaepernick should use the money he received in the settlement, potentially several millions of dollars, to continue his cause towards empowerment for black people and ending racial injustice and focus on that instead of football but that would be short-sighted. His two year absence from the NFL, his legal battles, and that he played well enough to be one of the top 32 quarterbacks in the NFL last time he played are reasons he likely continues to have the competitive itch to play. The Carolina Panthers are also the team that employs his former 49ers teammate and friend Eric Reid. The Panthers re-signed Reid earlier this year, essentially doubling down on a player and man who hasn't been shy about voicing his political or social opinions. Many football fans associate Reid with Kaepernick so there is no need to get a sense of whether Panthers fans would react negatively to bringing in a "controversial" figure.
From a football sense, it would be a good idea for the Carolina Panthers to bring in Colin Kaepernick because of the questions around the health of their starting quarterback Cam Newton. Newton had a rollercoaster 2018 NFL season due to injuries that ended early because of a lingering shoulder injury that he had to have surgery on in January 2019. It would be best to play it safe with Newton's shoulder and health and allow him an entire year to get healthy without the pounding and contact. It would be smart for him to comeback fresh and productive like the Indianapolis Colts found out when their franchise quarterback Andrew Luck returned in 2018 after numerous injuries sidelined him for over a year.
Although it is pretty clear that Cam Newton is the superior player to Kaepernick at this point, they share some similar skill sets so the offensive system would not have to be dramatically changed for Kaepernick and the team has talented young skill players like Christian McCaffrey and D.J. Moore to help. A transaction that would be good for all parties involved would be the Panthers signing Kaepernick.
Staff Writer; Mark Hines