An Increasing Percentage of African Americans Are Becoming Truck Drivers.
(ThyBlackMan.com) Trucking is a key component to American commerce. Most products sold in stores from produce to industrial products are transported by a semi-trailer truck. The people who drive these trucks work a hard job to keep the economy moving. Traditionally, truckers have been overwhelmingly white, working-class men. Previously, 73% of commercial drivers were white while 12% were African American or Hispanic. As the industry changes though, an increasing number of African Americans are working as truckers. As a member of the trucking industry, you might wonder what changes are causing the shift. Read below to learn why an increasing number of truck drivers are African American.
Good Job Prospects
Despite harsh conditions, the industry is lucrative. From the time a prospective trucker starts training for their commercial driving license, they can make a good living. Once the driver learns all the safety rules and great habits that make a safe driver, there are many opportunities available to them. Companies desperate to find new truckers offer signing bonuses and paid training. Once trained,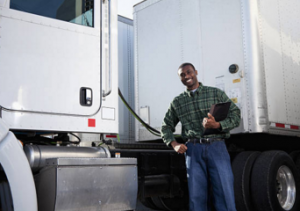 they can regularly make $70,000 a year with benefits. Additionally, drivers work on their own schedule as long as they adhere to the strict safety guidelines. They have autonomy over their work and can spend time on their own while driving. These conditions appeal to many African Americans in the working class who are looking for job opportunities that can offer higher paying salaries with greater levels of autonomy.
SupportOn Social Media
Previously, African American truckers were not organized in a way that helps new drivers enter the industry. For years, African American truck drivers experienced regular and often overt racism from white truckers. This kept them isolated on the margins of the industry. Over time, these drivers started talking to each other on social media. These informal groups became powerful centers of collective action against drivers and owners who discriminate against African Americans. These groups have made the industry a lot more open and help drivers cope with problems in a supporting environment.
Need For Drivers
African American drivers have benefited from a massive need for drivers. As many older drivers have aged out of the industry, American trucking companiesare about 50,000 drivers short. As this need bottlenecked the system, new hiring policies are targeting minority groups to fill the void.
Anyone can advance in trucking purely through merit and proper training. As companies focus on proper work hours and loading techniques,this creates a great environment for African Americans who still face road blocks in other industries.
Government Programs
African American drivers have benefited from programs created by the government to relieve the need for drivers. Military veterans are now exempt from restrictions that prohibit drivers under 21 from taking cross state hauls. This has encouraged many black veterans to join trucking after their discharge. If they take the proper steps to become a truck driver, including getting a commercial driver license, they can start earning at a younger age. This and the easing of other regulations have encouraged rapid entry of young truckers, who have much higher numbers of African Americans.
According to David R. Lira, a trial attorney at Girardi | Keese,"To improve truck driver safety there should be better enforcement of the federal regulations concerning the time limits on driving. Log books are rarely audited. The trucks event data recorder will tell you when the engine was running for a given period of time."
Direct Advertising
Groups within the trucking industry are also working to directly recruit more minority drivers, including African Americans. The National Minority Trucking Association, or NMTA, has a plan in place to create 500,000 minority transportation jobs by 2025. This group not only encourages hiring of African Americans as truckers, but throughout the transportation industry in other. When major industry organizations like the NMTA partner with companies, they create advertising campaigns to spread awareness about the opportunities available in the industry. This work ensures African American truckers that there will be places to rise to as they build a career in transit.
There a several reasons why the African American drivers are increasing. Good pay and benefits in the industry attract African Americans as others. African Americans have a strong support network among truckers. The need for drivers has swept away most of the remaining racial practices in the industry. Since there is a shortage of truck drivers, many companies are introducing new policies to attract minorities overall. Government programs encourage younger, more diverse truckers to start working. Moreover, the NMTA actively recruits them through industry collaboration and advertising campaigns. These forces combined keep bring new African Americans to trucking careers.
Staff Writer; Carl Jones