How Samsung Galaxy Note 9 Compares to Other Phones.
(ThyBlackMan.com) The Samsung Galaxy Note 9 is now available and it has secured the top position in the list of the best smartphones of 2018. We have compared this phone with other leading smartphones of the year and we have found some interesting facts. If you do not take all the marketing maxims too literally, then it won't be too tough for you to gulp some of the facts mentioned in this post. Our curiosity to know which is the best smartphone in 2018 led us to compare some flagship phones. Here's what we have found.
Samsung Galaxy Note 9 Specs and features
The Galaxy Note 9 runs off the Snapdragon 845 chip which is the most powerful smartphone processor in 2018 so far. Many flagship phones use this processor, but Samsung has added more power to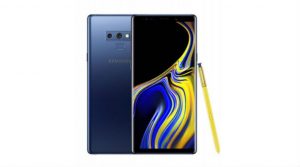 the device with 8GB of RAM. You can find the base model that comes equipped with 6GB of RAM, and the higher one supporting 8GB of RAM on board.
With the Samsung Galaxy Note 9, you get support for the S Pen. It's not a device that you'll use primarily to access your Note 9, but in certain situations, it helps a lot. As far as the display size and quality are concerned, it's fair to say that the Galaxy Note 9 features the best display quality in the smartphone space.
The smartphone features a 6.4-inch Super AMOLED notch-less display with slightly wider bezels compared to the Galaxy S9. With that size, it's pretty much clear to everyone that you can't easily operate the Galaxy Note 9 using one hand. Apart from all these basic details, the Samsung Galaxy Note 9 specification sheet says that the device is available in two storage options 128GB and 512GB which can be expanded by using the second sim slot. The device supports up to 512GB microSD card.
To make sense of the key differences between the Galaxy Note 9 and other high-end smartphones, we'll walk you through the factors you check when buying a new phone. We are not comparing these phones to find a winner, this comparison is just to help you find the right phone.
Samsung Galaxy Note 9 vs iPhone X
These two phones are available for the price of $1000. They are designed keeping pro buyers in mind. They look premium and come covered in glass body. If the design is the most important factor to you, the iPhone X comes out on top not because it stands out in Apple's own iPhone product line for its unique design, but the iPhone X is more convenient to use. You won't be taking notes on your smartphone all the time, would you?
If performance is your first preference, the iPhone X wins the battle against the Note 9 in benchmark tests, but in reality, you will not see much difference in the performance these two smartphones offer. But one thing is very important here and that's battery life. The Galaxy Note 9 has a 4000 mAh battery which is noticeably better than the iPhone X's 2716 mAh battery. Battery life depends on how power management works on these phones, but it looks like Galaxy Note 9 can easily beat the iPhone X in this regard.
Samsung Galaxy Note 9 vs Huawei P20 Pro
Regardless of your purchase decision, both the devices will give you enough power to do the things you want. Throw any app at them and you'll be surprised that Kirin 970 on Huawei P20 Pro is as powerful as the Snapdragon 845 on the Galaxy Note 9. If you need more storage, which is theoretically 1TB on the Galaxy Note 9, the P20 Pro wouldn't be the right choice with its 128GB storage capacity and lack of microSD card support. If budget is not a concern, you can go for high-end models and you will get 8GB of RAM on Note 9 and 6GB of RAM on P20 Pro.
These phones come equipped with a 4000 mAh battery, but you can expect more battery life from the P20 Pro that easily lasts for two days. The Huawei P20 Pro lacks wireless charging but supports fast charging. If you're still confused between Galaxy Note 9 and Huawei P20 Pro, their camera setup might help you make a decision.
The P20 Pro features a triple-lens system while the Note 9 has a dual camera on its back. With a combination of 40MP, 20MP, and 8MP lenses on the back, and a 24MP shooter on the front, the P20 Pro easily beats the Galaxy Note 9's 12MP+12MP rear and 8MP front-facing cameras.
Samsung Galaxy Note 9 vs OnePlus 6
The OnePlus 6 is being considered as one of the best smartphones of 2018. It deserves a position in any such lists because it's a value for money phone. Available at almost half of the price of the Samsung Galaxy Note 9 and the iPhone X, OnePlus 6 features top-notch hardware and performs really well.
With Dash Charging capabilities, it can charge faster than the Galaxy Note 9. The fully unlocked device doesn't come with bloatware, and its software is lightweight if you compare it with the Galaxy Note 9. It means that you can expect faster updates on OnePlus 6.
The Galaxy Note 9 beats OnePlus 6 on many fronts. The latter comes equipped with a 3300 mAh battery that can last all day but it is comparatively lesser than the Note 9's 4000 mAh battery. Sound quality that the Galaxy Note 9's dual stereo speakers produce is far better than what OnePlus 6's single, mono speaker could do. The Galaxy Note 9 also has the Dolby Atmos tuning advantage.
It's important to understand that all these smartphones are made for different types of consumers. For example, the smartphones like OnePlus 6 are not for power users. With the iPhone X, Apple targets consumers who prefer the premium design and an iPhone that looks different from the other Apple smartphones.
At the end of the day, you'll buy what you want to buy, however, it's fun to compare these phones and see where do they stand. The Samsung Galaxy Note 9 is impressive and it's fair to say that it's the best smartphone we have seen in 2018 so far.
Staff Writer; Corey Shaw
Have any Tech Tips? News? Hit up our Tech Guru at; CoreyS@ThyBlackMan.com