Chrome vs Firefox: Best Web Browser in 2018.
(ThyBlackMan.com) To know which one is the best web browser in 2018, you are probably looking for a Chrome vs Firefox comparison. If this is the case, you are at the right place. To know if you are using the best web browser or need to make a switch to a more reliable and better-performing browser, this article can help you. After comparing the latest versions of Mozilla Firefox and Google Chrome, here's what we have found.
Chrome vs Firefox: Speed & Performance
It was surprising to see that in many benchmark tests Firefox 59 Quantum beats Google Chrome. There's a measurable growth in the Firefox browser's performance and it is clearly visible in those tests. But benchmark tests can only tell you one part of the story – how a web browser performs on sheets. In real-world tests (which you can also take at any time), there is no significant difference between how the Firefox and Chrome perform.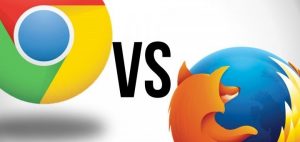 Most of the times, the loading speed of a web page on browsers depends on the technology working behind the website's core architecture. Since both Mozilla and Google have improved their web browsers over time, it's hard to say that one is beating the other. The truth is, it's all about how you feel until you test different websites on both the browsers. In our tests, we found that Firefox is faster.
Chrome vs Firefox: User Interface & Other Design Elements
If you have been using a particular browser on your mobile phone or PC for a long time, you will find it more user-friendly. It's obvious because the design of a web browser plays a major role in customer retention. If you compare an old and a new version of the Google Chrome, you will realize that Google hasn't made any significant changes to the overall design of the browser.
Firefox, on the other hand, has got a new design language "Photon". It's a new design system developed by Mozilla and now the browser looks better and more user-friendly than it was a few years ago. The new design gives Firefox a combined address bar and a search bar similar to what we see in Chrome.
When you perform a search on the Firefox browser, you get a drop-down menu at the right end of the search bar with options for bookmarking and sharing and screenshots. On Chrome, you get bookmarking option in this area by default. Tabs on both the browsers work in the same way and minor changes in how they look don't make any difference in user experience.
The best thing about Firefox is that if you are opening many tabs, the size of tabs shrinks but the webpage name is clearly visible. On top of that, when you open many tabs, you get a drop-down menu at the end of the address bar to easily navigate and jump on to the tab you want. On Google Chrome, tabs are shrunk to a level where all you can see is the close button. There's no way on Chrome to judge which tab contains the web page you want to see and you have to manually click each of them to see which page contains what.
Just like many other web browsers, you customize Chrome and Firefox to a personal level and install themes from their respective stores.
Chrome vs Firefox: Features
Firefox Quantum is a feature-rich browser. It is loaded with a built-in QR code reader, a dedicated screenshot tool, night mode, sync options, add-ons and a password manager. Mozilla offers Firefox Quantum browser as an open-source project. It means that the browser doesn't sell your online data and allows you to enjoy full privacy. The browser also has a Private Mode similar to Chrome's incognito mode. Firefox Quantum can block ads, unwanted content, social media buttons, and web trackers.
Google Chrome comes with a built-in malware detector and it also actively detects harmful apps on your system. Chrome also offers incognito browsing and ad blocker to help you reduce the amount of unwanted content while you are surfing. Both the web browsers allow users to sign-in, synchronize and manage web history, bookmarks, passwords, and browser settings across all your Android and iOS devices.
Chrome vs Firefox: Which is the best
Mozilla Firefox is the winner and Mozilla can continue to beat Chrome in the long run. Google won the Chrome vs Firefox war but soon after the release of the Firefox Quantum, Google's offerings look less appealing. But these days, it's not just about a browser and its speed because many people choose a web browser according to the ecosystem they are a part of. But if you feel like giving a try to any of them, making a switch is easy and all your data on Chrome and Firefox can be imported on the other browser in seconds so you won't feel like making a new start and remembering passwords all the time.
Staff Writer; Corey Shaw
Have any Tech Tips? News? Hit up our Tech Guru at; CoreyS@ThyBlackMan.com