Thankful for Donald Trump.
(ThyBlackMan.com) The holiday season isn't just about food, festivities and shopping – it's also a time to reflect and give thanks for our blessings.
Too many people get caught up with material things, and they don't take time to reflect on the difficult times that God has brought them through because of his grace.
As I reflect on the season, I'm thankful for President Trump – the great white hope – who is putting America first. Despite the lies and attacks from the left-wing media, liberal Democrats and Never Trumpers, Trump is enduring his challenges with class and grace. He's a glaring contrast to the Fallen Messiah Barack Obama, who spent eight years exploiting identity politics and dividing the country.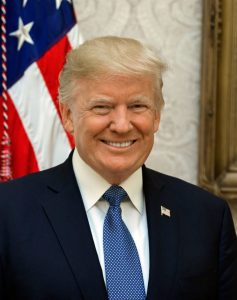 In less than a year, Trump has achieved more meaningful accomplishments than any other administration in recent memory.
He is putting our national security first by moving forward with his promise to build a big, beautiful wall along the U.S.-Mexico border. He is allowing our military to do what it was designed for: to fight and kill bad guys.
Donald Trump is rebuilding our armed forces and dismantling liberal policies piece by piece. He is allowing the generals and commanding officers to lead the troops. As a result, ISIS and other radical Islamists are on the run and are being decimated.
Donald Trump appointed Judge Neil Gorsuch – a true conservative – to the United States Supreme Court. He is also quickly filling federal court vacancies, outdoing Obama and George W. Bush during the first 200 days in office in circuit and district court appointments. These appointments will have a huge impact on our laws and culture for many years to come.
Donald Trump has the economy booming again. He is bringing manufacturing back and making trade fair again. All this has resulted in some 1.7 million jobs being created sine he was elected.
That's amazing!
Trump wisely pulled the U.S. out of the awful Paris climate agreement, which was impeding our nation's ability to compete. The president also put the United Nations and NATO on notice that they must pay their fair share and will no longer have a blank check from the U.S.
Other presidents have sat on the sidelines and allowed the left to degrade America and mock traditional Christian values. In Obama's case, he was actively promoting evil by supporting unfettered abortions and embracing the anti-white, anti-police Black Lives Matter hate group.
The president and vice president are very pro-life. Trump is taking on the NFL commissioner and NFL teams for not reprimanding low-life players like Colin Kaepernick.
I'm grateful to have been born in the greatest country on this side of heaven on a plantation in Alabama. Even though the laws were against blacks, I was surrounded by good examples, and I was never taught to hate whites.
As I say on my radio show: I am not African-American, I am 100 percent American! No African drums beating in my chest; the American guitar is playing in my heart. Black as the ace of spades, but 100 percent American!
I'm thankful that God allowed me to see the destructive effect that anger was having on my life and that He caused me to forgive. As a result, my life has unfolded in ways I never imagined.
He made it possible for me, a country boy without a college degree, to run a nationally recognized nonprofit, BOND, which is committed to "Rebuilding the Family by Rebuilding the Man." We provide counseling, mentoring, jobs, an entrepreneurship academy, men and women's forums and church services. We've been around for 27 years, and we don't take a dime of government money. Yet, thanks to the prayers, financial support and volunteer time from decent men and women, we're getting the truth out and helping people around the globe.
We have young people in colleges across the country. Some have started businesses. We have young people getting married and starting families and doing it right: without premarital sex and no children out-of-wedlock.
Former President John F. Kennedy said: Ask not what your country can do for you – ask what you can do for your country.
I'm blessed to able to give back and fight for my country. Recently, I had the opportunity to speak to The Remembrance Project in Washington, D.C., along with Steve Bannon and other great Americans about the need to secure the border and stop illegal immigration. I'm fortunate to host a national radio and TV show that allows me to get the truth out to more people.
As a result, people are realizing that there's no such thing as "racism" and that our battle is not physical; it's spiritual.
Without God, you can't have a real life, and I see people turning toward God all the time. They're not afraid to openly support good men like Donald Trump, Roy Moore and others who are committed to putting God and country first.
I urge you to pray and get to know yourself. Reflect on life and be thankful to God for bringing you through the difficult times.
Learn more about Jesse Lee Peterson's nonprofit BOND at RebuildingTheMan.com.
Tune in to "The Jesse Lee Peterson Show," Monday through Friday, 6 to 9 a.m. Pacific/9 a.m. to noon Eastern.
Written by Jesse Lee Peterson
Official website; http://twitter.com/JLPtalk