How to Deal with Hair Loss (Male Pattern Balding).
(ThyBlackMan.com) Okay so here is something that men don't like to talk about much – hair loss. You deal with this A LOT and it is a sore spot if there ever were one. Women may be all about their hair because they want to look good and change things up. But if a man is talking about his hair, more times than not, it has something to do with the fact that he just might be losing it.
Men face balding issues at different times during their lives. Some, luckily, never have to battle with it. I have known men to start balding in their twenties while others die with a full head of hair.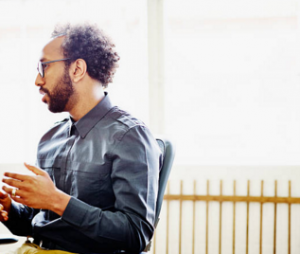 Experts say that male patterned baldness comes from the mother's side so if you are currently struggling with the dreaded problem, you can thank your momma.
There are ways to limit the effects of baldness. Of course, products have been around for years that claim to regrow your hair. But if you don't want to go that route, you can look to other ways to replenish your fading tresses.
So for the men who care about their hair and hate to see it go, here are some ideas on how to save what you have and even regrow what you don't.
Get A Prescription
There are medicines that you can get from your doctor that specifically work to help regrow your hair. One such RX is called Finasteridie. It is an oral pill that you can take that works through binding the enzymes that convert free testosterone into dihydrotestosterone (DHT). The use of this drug can drastically slow the hair loss for the duration of your taking it. But once you stop your hair loss eventually restarts.
Essential Oils
Women have been hip to the essential oil game for a long time now. Men can take advantage of it too. If you know that male pattern baldness runs in your family, start using essential oils to give your hair a fighting chance against the heredity issues. Massage it into your scalp regularly to help with circulation, which keeps your follicles active. Lavender, Rosemary, and Cedarwood are all great choices.
Learn more in these comprehensive guide about essential oils from Organic Daily Post.
Fix Your Hormones
Sometimes an imbalance in your hormones can be the cause of your hair loss. This is especially true if you have an underactive thyroid. It not only increases inflammation in your body, but it also is a great accelerator of baldness. When it comes to this issue, a lifestyle change is what you need. This will not only give you a fix for your hair issues but will also improve your overall health.
Reduce Your Stress
Is there anything stress isn't related to? Stress is one of the main causes of hair loss for men and women. It definitely affects men and their ability to maintain a head full of hair. As much as possible, try your best to reduce your stress. Because some men are more prone to it than others, this is especially important. Find ways to de-stress and eat foods that will help promote good energy.
Losing your hair is no fun, but these tips can help you find ways to cope and treat your issues.
Staff Writer; Rasheda Abdullah