Nintendo 2DS XL Features, Games, Specifications, Price: Here Are All The Details.
(ThyBlackMan.com) The new Nintendo 2DS XL recently made its debut in North America, joining the Nintendo 3DS family of systems. After Nintendo NX launch, the company's new handheld gaming console is the latest surprise for fans. To add more excitement to this April 28 launch, the 2DS XL is accompanied by two new games titled Hey! PIKMIN and Miitopia.
From Nintendo 2DS XL specification to its price, unique features and games, here is everything you need to know about the handheld console.
Features
Nintendo's new console brings the power of 3DS XL in budget. The new 2DS XL features 2D gaming for almost all the Nintendo games. The company has taken a bold move by introducing 2DS XL with a massive screen, which is 82 percent bigger than the previously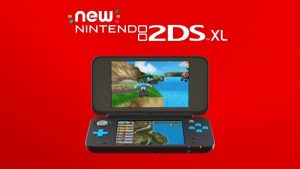 launched 2DS system.
Wireless connectivity in 2DS XL makes it a great choice for players seeking a fresh multiplayer co-op experience. With a 3.5mm headphone jack, the new console appears to be a perfect travel companion. Its ergonomic, folding design strengthens its ability to be picked by gamers who can't stick to the home-based consoles.
When on-the-go gameplay turns out to be a major benefit of handheld devices, battery life is the first concern that comes in mind. But unfortunately, Nintendo is silent on this fact. The company hasn't officially mentioned anything about Nintendo 2DS XL battery life.
We expect the battery life to be at least close to 3.5 to 6.5 hours, which is similar to what 3DS XL offers. The bigger screen will undoubtedly make 2DS XL a power hungry console.
Specifications
If you compare Nintendo's 2DS XL and 3DS XL, you won't find any significant changes in the technical aspects. Overall, the improved processing power for better performance and better gaming experience on high-end games will be delivered in 2D vision. With some built-in software and features, the new 2DS XL enables users to watch videos online, browse internet, buy and download games.
The controls on 2DS XL are similar to what you get in 3DS XL. The new console has a stylus, the same buttons, a circle pad and one C stick. The device comes with a set of two back buttons. According to Nintendo, it gives better control to the users. The touch-sensitive screen is one of the most attractive aspects of the new handheld console and there's a stylus attached in the back side, comes handy for easy navigation.
Games
Nintendo has confirmed that its new 2DS XL is capable of playing all the 3DS games and many DS and DSi games as well. Access to Nintendo eShop gives players an opportunity to explore wide-ranging new and classic games.
The console comes with a 4GB memory card so that you can easily store games. And the best thing is that you can enjoy demo games without buying their full version. On Nintendo eShop, there are many games available which you can try prior to purchase.
Price
You can buy Nintendo 2DS XL for US$149.99, which is 50 dollars less than the 3DS XL console. Nintendo's high-end 3DS XL gives a full glass-free 3D experience enhanced by a face-tracking camera. Other than the 3D experience, there is nothing much customers are going to miss in the 2DS XL.
Should you buy?
According to Nintendo, the new console is for anyone who doesn't care more about 3D vision. More specifically the auto-steroscopic trend. Nintendo's standard 2DS is obviously more suitable for kids, and 3DS brings more innovative approach to the Nintendo family. So, those interested in getting a console which is capable of doing almost everything 3DS can, buying a Nintendo 2DS XL is not a really a bad choice.
Since Nintendo is known for launching and discontinuing the console systems, it will be interesting to see that for how long 2DS XL remains in the market.
Staff Writer; Corey Shaw
Have any Tech Tips? News? Hit up our Tech Guru at; CoreyS@ThyBlackMan.com.