The True Story Of The Greatest And Most Notorious High School Football Team In American History – The 1988 Carter High School Football Team.
(ThyBlackMan.com) I saw a film this morning about The 5A Texas High School Football Champions, The 1988 Carter High School Football Team called "Carter High".
Of all the dominant and talented high school football teams that I've personally seen over the years here in Alabama from the 2000s Hoover High School Football Teams and even the Lee High School football teams from the 1980s and 1990s, none of those teams were as talented and dominant as The 1988 Carter High School Football Team in Texas.
The 1988 Carter High School Football Team were first featured in a 2004 film called "Friday Night Lights" in which they were not portrayed very well in the film because they were portrayed as a bunch of "bad, rowdy negroes" on and off the field.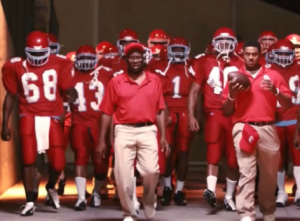 And then a couple of years ago, a brother that was a receiver on The 1988 5A Texas High School Championship Team named Arthur Muhammad had written the script and directed a film that portrayed The 1988 Carter High School Football Team in a better light than they were portrayed in "Friday Night Lights".
In 1988, Michael Jackson was at his peak of his music career and released a film called "Moonwalker", Tupac started rapping at 17, The musical genres of Bass Music and New Jack Swing were on the rise and West Coast Hip-Hop became commercialized after NWA's politically charged track that came out that year entitled "F**k Tha Police" in which they talk about the domestic terrorism that urban communities across America face daily from what I call race soldiers from The State.
Also in that same year, The Carter High School Football Team was riding high and dominating opponents in The 5A Division on their way being the first high school football team from Dallas to win a state title since 1950. They had overcome a lot of adversity and obstacles on the field during that season.
But the biggest battle they had faced was with The State because they were investigating the team for possibly having an ineligible player starting on the team because that player didn't pass his algebra class because it was revealed in the "Carter High" film that the player's caucasoid male teacher told him that he had missed a homework assignment that wasn't completed and he made a "C" on it which the player later protested, but the caucasoid male teacher told him that athletes like him don't get special treatment in his class in which I find that teacher's comment very interesting because these days most caucasoid teachers basically pass these brothers from grade-to-grade in high school caring very little for their future and then having their grades inflated in college by the faculty to keep them eligible to play either on the basketball court and the football field because they're generating millions for their universities.
I also like how the film "Carter High" shows the close brotherly bond that these young brothers showed towards one another especially in the face of scandals that had rocked their football team.
Racial tensions back then were very high because suburban teams had begun playing urban teams and there was one scene in the film where the young teenage urban girl at Carter High told the caucasoid male reporter in response to the scandal of the football player being ruled ineligible that "If Carter High was a predominantly white school, all these investigations and scandals wouldn't even be happening right now" which I actually agreed with her by the way because The State is very quick to punish urban high school athletic programs for ineligible players and other petty stuff, but hardly issue punishments to suburban schools that do those same things.
The 1988 Team is unfortunately notorious for poor choices off the field with six football players being involved in 21 robberies for six months after winning The 5A State Title in which are known as "The Carter Robberies" in which most of the players got very short prison sentences for their role in the robberies. In 1991, The State voted to strip Carter High of their 5A State Title and give it to the runner up for having an ineligible player on the field.
After all six football players did their time in state prison, they went to have better lives as community activists, pastors, businessmen, car dealers, and productive citizens of their community. So, I'm happy that these brothers had turned their lives around for the better. I am a big fan of stories in which brothers that made mistakes in the past used them as motivational tools to better their lives and being better assets to their community.
The Conclusion – If there's one thing that can be learned from The 1988 Carter High School Football Team, the skills of hard work, determination, effort, focus, setting goals, toughness, and overcoming adversity can be translated to also being successful in The Game Of Life.
Staff Writer; Kwame Shakir (aka Joe D.)