Wonder Wheels: The Best Car Rental Apps for Android and iOS.
(ThyBlackMan.com) If you decide to rent a car, whether in your local area or on holiday, part of the difficulty involves finding the most suitable car at the best price. Fortunately, there are lots of smartphone apps these days that can make finding a vehicle much quicker and easier.
Here are a few of the best that are currently available for Android and iOS so that you can take the hassle out of finding a rental car.
Hertz
The Hertz app is available for Android and iOS. Hertz is one of the most popular rental car companies in the world, and this app is a great option when you are traveling somewhere new because you'll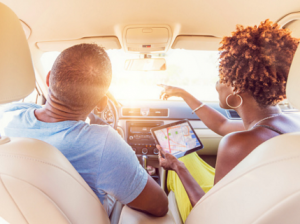 always find a rental car nearby.
Get directions via the app, and use it to find and book your rental car. You can also use it for roadside assistance and for finding special offers.
Hotwire
Hotwire is another app available on Android and iOS, and you can use it for finding hotels as well as car rentals. It does all the basics, such as finding and booking a car, and you can book your car at the same time as your hotel to save time. You can also save money using the app because there are some good deals on offer. It's particularly useful for last-minute travel arrangements.
AutoRentals.com
This iOS app is great for finding good car rental deals. It's very simple to use, and you can compare rates from various companies direct from the app. Then just choose a type of car and book it immediately. You can also contact customer support from within the app.
Remember to drive carefully no matter which company you use for your rental car. While you will want to get insured, you may still need legal assistance if you are involved in a collision that is not your fault, and a specialist like herrmanandherrman.com may be able to help in this situation.
Enterprise
The Android and iOS app for this popular rental company is really useful. You can use it to book your car in advance, and you can use it in upwards of 7,000 locations. Then make your reservation and get access to all your rentals in one place. You can also get access to roadside assistance and customer support.
Turo
This app is available on iOS and Android, and it allows you to rent a car from a community of owners all over the country. So you can search for a nearby car to drive, or you can let other people rent your own vehicle to make some money.
Expedia
Expedia is one of the biggest booking websites, and its Android and iOS apps are useful for anyone traveling. You can use it to find flights and hotels, but also rental cars, which is great if you want to book your whole trip in one place. Plan your vacation here all from the app, and get the best deals.
Avis Car Rental
This Android and iOS app is really useful. Avis is a big car rental company, and its app is great. You can use it to find nearby locations to rent your car, and you can browse through the collection of available cars and then simply book one via the app.
CarzUP
This iOS and Android app is another popular one. Choose cars from a large number of car rental companies, then book it and get insurance all from the app. You can search by location, and you can manage all your bookings from the app.
Find the Perfect Car for Your Next Trip
If you want to rent a car for your next trip, any of these apps can be useful. The best thing to do now is download all of them and try them for yourself. You may find that you prefer using one of them over the others, or you may decide to use a few of them to get access to a wider selection of cars and prices. Then use the apps whenever you travel to find the best rental car for your trips.
Staff Writer; Peter Thomas