Where's the rest of it? Stories about black life in the inner-city.
(ThyBlackMan.com) "Where's the rest of it?" is a line of dialogue from my web-series I thought would work as a title for this blog because I am asking Hollywood the same question about the stories it produces about inner-city black youth.
My web-series, the Miseducation of a First Generation College Student, is a dramedy that navigates the struggles of an inner-city first generation college student through the fictional character Lavor, but is a semi-autobiographical retelling of my experience(s) in undergrad. I attended the historically black college Delaware State University in Dover where I met a variety of interesting characters who I will try to recreate in the series. Although more importantly I believe being the first in my immediate family to attend college introduced some unique and oftentimes laughable learning curves suitable for dramatic storytelling.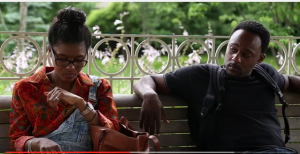 Whereas Hollywood will produce inner-city stories about black males the narrative is limited. And this is why I want to tell my story. From John Singleton's 'Boyz n the Hood' (1991) to Rick Famuyiwa's 'Dope' (2015) a single parent struggling to raise an incredibly gifted athlete or genius who gets caught in a drug war is only part of the inner-city reality. As there are many two-parent homes struggling to raise children who never interact with drugs or gangs but must still overcome the challenges of their impoverished communities. There are different options in the 'hood'. There are different people. There are different stories, problems, fates, and solutions. The drug dealer lives next door to someone who is devoutly religious and, though economically deprived, they are refusing to live morally corrupt; and next door to this staunchly religious neighbor there is someone different. And so if there is variety in the ghetto it should be reflected in the stories we tell. Otherwise we continue to glorify one part of the ghetto and what message does that send?
Dope was an amazingly well-crafted film but there could have been another obstacle in the main character's life besides a bag of drugs. He could have had a father in the house and still struggled to get out of his poverty stricken neighborhood. There are entire families in the ghetto. There are blended families in the ghetto. We have to look at this. We have to know why Hollywood continues to produce stories about our inner-city youth from broken homes that involve the selling of drugs. Film is a powerful medium that helps to shape the identity of today's youth.
It is difficult to defy the stereotypes mainstream media adamantly continues to produce. My web-series is one story about an inner-city black male who comes from a struggling two-parent home. He is not an athlete. He represents the 'other' part of the inner-city that successfully avoids selling narcotics. We love John Singleton. We love Dope; but we need to tell the rest of our story. The drug dealer is NOT the main character in every ghetto and some of us lived in two-parent homes. All of these images are important because we want to see the truth, but when part of the truth escapes us we remain ignorant about our diversity and potential.
Tylie is a rising dramatist who will attend the MFA program for dramatic writing at NYU Tisch School of the Arts in the fall. Follow his web-series @tylieshider on YouTube now!
Follow Tylie on Instagram; http://Instagram.com/theplaywright (——–
Staff Writer; Tylie Shider
Also connect with this brother over at; TylieShider.com.