DADLY Way Authors Proclaim Fatherhood Is Alive and Well.
(ThyBlackMan.com) Nationally recognized author, Hogan Hilling, who appeared on Oprah, and Dr. Josh Misner co-authored a book to dispute the father absence crisis claims made by fatherhood organizations like the National Fatherhood Initiative.
In their book The Dadly Way: 10 Steps to More Active Fatherhood and Equal Parenting;
http://www.amazon.com/The-Dadly-Way-Fatherhood-Parenting/dp/1628652187
Hilling and Dr. Misner reveal how the NFI and other fatherhood
organizations have misinformed the public about the state of
fatherhood and wasted taxpayer dollars with propaganda about a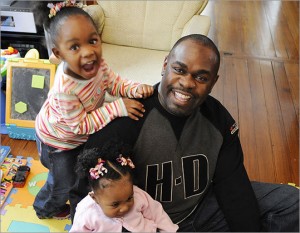 fatherless crisis that doesn't exist.
Some of the revealing discoveries in this book include:
• The flawed definition of father absence
• No studies were conducted on what really causes father absence
• How the NFI wasted taxpayer dollars on a fatherless crisis that
doesn't exist to the degree it claims
• How the NFI and other fatherhood organizations duped the public
with false advertising about their "father-friendly" campaign
• How dads need to act like friendly fathers to other dads and
emotionally support each other
The DADLY Way's mission is to to unify, strengthen, and educate the parenting community. This insightful, revolutionary book proves
fatherhood is alive and well in America and that the responsible,
active dads far outnumber the irresponsible, absent dads.
To schedule an interview with the authors contact Hogan Hilling hogan@dadlyrally.com.
About The Authors
Hogan Hilling is a dad, creator of the DADLY book series and author of eight parenting books. Hillng has appeared on Oprah and helped
establish several fatherhood networks in the USA since 1992. Hilling
is also the founder of the DADLY Rally http://www.dadlyrally.com.
Josh Misner, Ph.D., is a dad, an award-winning communication &
leadership professor and mindfulness researcher. Dr. Misner is also
the founder of the Mindful Dad Project, a collaborative community
effort aimed at reconnecting fathers who desire a deeper connection
with their children.