Actor Terry Crews Is The Latest Black Man To Dress Like A Woman.
(ThyBlackMan.com) Success in Hollywood can be the key to fame, fortune and the fulfillment of all of your dreams as an actor.  But those dreams can sometimes come at a price, especially for African Americans.  One price that may be paid is your dignity and self-respect, leading you to do things you wouldn't normally do if you weren't being paid to do them.
Dave Chapelle, while speaking with Oprah about his experience in Hollywood, said he became disillusioned with the fact that nearly every great black comic and many black male actors are asked to dress as women at some point in their careers.  While some white actors dress as women, the list isn't nearly as long as it is for black men, who comprise a very small percentage of the men in Hollywood.
Chris Rock also said that a masculine black man with "a goatee and base in your voice" has a very difficult time making it in Hollywood.
When considering the numbers of black men in Hollywood who have put on a dress for success, the list is long and a little bit shocking.  Also, this list is non-exhaustive:
1) Eddie Murphy

2) Martin Lawrence

3) Wesley Snipes

4) Terry Crews

5) Kevin Hart

6) LeBron James

7) Kenan Thompson

8) Jamie Foxx

9) Tyler Perry

10) Charles Barkley

11) Chris Tucker

12) Ving Rhames
There are actually quite a few others who can be added to the list as well.   What's interesting about this list is that if you try to create an equivalent list of white actors who've done the same thing, it's just not nearly as long.  I don't recall seeing Brad Pitt, George Clooney, Leonardo di Caprio, Matthew Mcconaughey and other famous white actors slapping on a miniskirt for laughs.  Could it be that the black male image is so powerful, domineering and overwhelming that only a dress, wig and a little twerk can make it less threatening?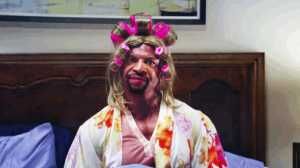 Here's a new Old Spice commercial featuring actor Terry Crews.  Crews, as the star of "Everybody Hates Chris" stands alone as one of the few strong father figures left on TV, especially after Bill Cosby's complex personal life has left his legacy in ashes.  So, you can imagine how hurtful it is to see Crews join the legions of black men willing to put on a dress in order to make a buck.
For the record, I still respect and appreciate Terry Crews as an actor. I just wonder whose idea it was for him to dress as a woman. Imagery does matter, and we must consider the complexities of leading young black men to believe that emasculating yourself or becoming a televised clown is the key to being successful. You can never become the king if you're always signing up to be the court jester.
If a man as talented and successful as Terry Crews has to put on a dress in order to make a buck, it seems that many other black male actors in Hollywood don't stand a chance. You can watch the new ad below. Terry Crews can be very funny on-screen, but with all the serious issues facing the black male's right to manhood, we have to ask just how far we're willing to go in order to make other people laugh.
[youtube AtJPZGsqaYs]
Staff Writer; Dr. Boyce Watkins 
Dr. Boyce Watkins is the founder of the Your Black World Coalition.  For more information, please visit http://BoyceWatkins.com.