NFL Domestic Violence; Did Commissioner Roger Goodell Just Fumble on 4th and Goal?
(ThyBlackMan.com) On Thursday, August 28 National Football League Commissioner Roger Goodell announced a new league-wide policy for players accused of domestic violence.
The Good: There needs to be stronger and more professionally detrimental circumstances for what is a heinous crime.
Note: there is no excuse for domestic violence despite what you may have heard from ESPN's Stephen A. Smith last month. Baltimore Raven Pro Bowl running back Ray Rice recently received a two game suspension for a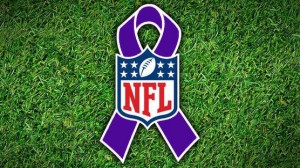 domestic violence incident against his then fiance. Rice is now married to the victim. Roger Goodell has made his name by being the 'no nonsense' commissioner so I would expect a harder stance in regards to crimes being committed by the players under his watch.
Note: I would never use the phrase "his players". Both he and the players work for the league. Moving on. Players can receive anywhere from 1-5 game suspensions for helmet to helmet hits DURING actual games but Rice got two games for what was proven to be actual domestic violence, i.e. a felony. Recently Josh Gordon of the Cleveland Browns received a 12 month ban for repeated substance abuse violations. So smoking weed (and understandably a DUI) earns a player a longer and more expensive suspension than domestic violence? That doesn't seem right does it?
Come on Goodell, don't you have a wife, mother, sister or daughter? Don't you understand that domestic violence doesn't just physically hurt the individual victim but emotionally hurts the entire family? Maybe you don't know that, maybe you're too disconnected from violence to have ever known that. If that is so then good for you. Some of us were not that lucky.
Under the new policy first time domestic violence offenders will receive a six game suspension. Because the N.F.L. just so happens to have one of the most powerful unions, not just in sports but in general, the player will have the right to appeal any suspension. Do I think six games is enough? Not if the victim is my daughter or was my mother (R.I.P. Diane Suggs) or is my wife. Maybe Commissioner Goodell needs to keep that in mind. Moving on.
The Bad: A second offense could (remember what I said earlier about appeals)  could lead to a lifetime ban. This is where I believe the Commish dropped the ball. I argued that a six game ban wasn't enough for a domestic violence conviction-not an allegation. But to strip someone of their livelihood at the highest level-which the N.F.L. is in regards to football-is ridiculous. There has to be a balance-a season long suspension for a second domestic violence offense is long enough. Trust me a year without pay is bad enough.
An argument would be that domestic violence is a cancer that eats away at families and relationships, the offender should not be allowed to do what they love to do for a living. The job of law enforcement and the legal system is to dole out punishments-the N.F.L. and Roger Goodell's job is to govern the league's players, staff, officials and executives on all levels. Yes that means you Jim Irsay.
Commissioner Goodell and his cohorts gave in to public pressure before implementing the new domestic violence policy. Cowards all of them. But whatever it takes to get the job done is fine by me. The policies are put in place to protect the family and friends of the league's players and not Goodell's bread and butter: the players themselves. In that case I guess he didn't drop the ball after all.
Staff Writer; Donnell Suggs
One may also connect with this talented writer via twitter; Suggswriter and also facebook; D. Suggs.