SWAG in the Black Male College Explorers Program.
(ThyBlackMan.com) This summer the Black Male College Explorers Program was hosted by Edward Waters College in Jacksonville, Florida. The 5 week BMCEP program is an academic and mentoring program for At-Risk Black male students in Duval County Public Schools.
The STEAM instructor in the area of Engineering; William Jackson a teacher with Duval County Public Schools and Adjunct Professor with Edward Waters College teaching Educational Technology in the Education
Department helped to incorporate a rocketry program along with L. Vines an educator from North Carolina, Mrs. Vines taught the science component.
Mr. Jackson encouraged the students by incorporating a SWAG in STEAM
initiative:
Students Working to Academic Greatness in Science Technology Engineering Arts and Mathematics
http://myquesttoteach.wordpress.com/2014/07/06/ewc-black-male-college-explorers-program/
The summer SWAG in STEAM project was to design and build rockets,
incorporating the Science of space exploration and history, learning about the Technology used to design, build and launch rockets and spacecraft,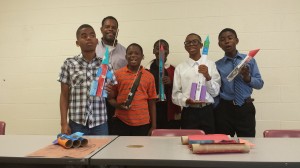 the Engineering skills to understand how to build rockets for safe flight
and mission successes, the Arts in using tools to design unique and futuristic rockets and incorporating Mathematics learning and applying basic and advanced math concepts. The math instructor, Mr. Jackson, no relation, worked to establish a connection with why math is important and strengthen the students fundamentals.
The history of the space industry was discussed as well, providing relevancy and cultural connections. Students learned how Blacks are heavily involved in the space programs with NASA and other organizations. How to apply STEAM skills for careers and educational benefits were introduced as well.
The 45 students participated in technology classes with virtual learning, reading intervention and other academic areas that promote self-confidence, independent  learning, cultural understanding and field trips to local cultural centers and the grand trip to Washington, D.C.  Many of the students have never been to the nation's capital, they learned the historical significance of the capital and visited many of the buildings and structures.
The conclusion of the summer program was a banquet with guest speaker
Senator Anthony "Tony" Hill providing motivational and inspirational words to the young men and their family and friends.
The Director is Darren Gardner who manages the BMCEP at Edward Waters College.  More information for the BMCEP can be found by contacting Mr. Gardner at:
Edward Waters College Black Male College Explorers Program
1601 Kings Road
Jacksonville, Florida 32209
d.gardner@ewc.edu
Staff Writer; William D. Jackson
Find out more about this talented writer over at; OCS For Education.