Boondocks Creator Aaron McGruder Explains Why He Left Sort Of.
(ThyBlackMan.com) I don't go out of my way to meet very many people.  I'm not sure if this makes me anti-social or not, but it's just a fact.  In the course of my work, I've been blessed with the chance to bump into some extraordinary souls, and brilliant individuals who've climbed mountains in their sleep.  But there are few people on this planet that I've wanted to meet more than Boondocks creator Aaron McGruder.
McGruder's show is exactly what the black community needs:  Something intelligent, honest, comical, nuanced, insightful, fearless and powerful.  This show was like no other and was clearly the best cartoon in the history of television.  I couldn't wait to see each episode, mainly because I loved how Aaron could tackle complex social issues in a way that helps us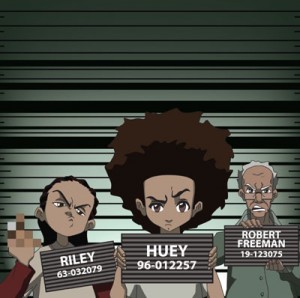 to all realize just how stupid we look when we go to one extreme or the other.
If Aaron McGruder were a white guy, like Family Guy creator Seth MacFarlane, I truly believe he could have gotten away with being over-the-top controversial. Seth is going to become a billionaire by offending anyone and everyone, holding nothing sacred in the process. McGruder did what Seth does in an even better way, but I seriously suspect that there was a huge price to be paid behind-the-scenes.
So, I was sad to hear that Aaron McGruder isn't going to be around for the fourth season of The Boondocks.  I see that he has a new show called "Black Jesus," which is on Adult Swim, the same network as The Boondocks.  Aaron McGruder sent this message out to the public on his new Facebook page:
FROM AARON MCGRUDER:

As the world now knows, The Boondocks will be returning for a fourth season, but I will not be returning with it. I'd like to extend my gratitude to Sony and Adult Swim for three great seasons.

I created The Boondocks two decades ago in college, did the daily comic for six years, and was showrunner on the animated series for the first three seasons. The Boondocks pretty much represents my life's work to this point. Huey, Riley, and Granddad are not just property to me. They are my fictional blood relatives. Nothing is more painful than to leave them behind.

To quote a great white man, "Hollywood is a business". And to quote another great white man, "Don't hold grudges".

What has never been lost on me is the enormous responsibility that came with The Boondocks – particularly the television show and it's relatively young audience. It was important to offend, but equally important to offend for the right reasons. For three seasons I personally navigated this show through the minefields of controversy. It was not perfect. And it definitely was not quick. But it was always done with a keen sense of duty, history, culture, and love. Anything less would have been simply unacceptable.

As for me, I'm finally putting a life of controversy and troublemaking behind me with my upcoming Adult Swim show, BLACK JESUS.

AM
OK, I have a few quick questions that I'd love to ask Aaron McGruder in person. But I'll probably never get to ask him, since I hear that he's as anti-social as I am.  So, I'll just ask them out loud and hope that Black Jesus is listening:
1) What happened bro?  Didn't you own The Boondocks?  How did someone boot you out of a show that belonged to you?  If they did, could this be a lesson to the rest of us about the importance of holding onto our intellectual property? I suspect that it is.  It would seem that ownership becomes even more critical when doing controversial work. That's what keeps a white man from being able to slap you on the forehead when you've been a "bad little negro."  Ownership is more important than money most of the time.
2) I see you have a new show on the same network, but aren't going to be involved with the show that brought you to the network in the first place.  How does that work?  It doesn't appear that you've fallen out with Adult Swim entirely, so I'd love to hear a better explanation.  The one on your Facebook page, to be honest, is a little cryptic.  It tells us a lot about you, but doesn't tell us much about the decision-making process or those who've created the awkward situation we are faced with today.
3) When I watched The Boondocks, I felt that I was inside your mind.  Honestly, your unique line of thinking is what made the show so special in the first place.  I truly respect the fact that you took on the villains at BET, manipulative black leaders who seek out personal gain, and all the other things that famous people are afraid to mention because they might offend their friends. Please tell me why I should watch the show now.  I honestly feel that it's just been reduce to another cartoon.  Black people don't need more televised buffoonery….we should be allowed to think while we laugh as we are (in your words) being offended for all the right reasons.
4) Why so long between seasons?  Wasn't the last full season released four or five years ago?   I have no idea why it seems to be the case that whenever black people find something on TV that is uniquely brilliant and not totally sold out, it just disappears.  Remember Dave Chapelle?  Do they really drive black people that crazy behind the scenes on these shows?  I am sometimes asked to get involved in television and I back away for these very reasons:  Some of us don't live well in a cage.
5) Did the pressure from BET and Tyler Perry lead to your show being undermined?  If so, you should tell your fans so they can fight on your behalf.  If not, it can make people wonder if you're being flaky and undevoted to your most loyal followers.  I hate saying this about a man I respect so much, but I've been long frustrated by the lack of consistency I've seen over the years.  I'd love to hear the rest of the story.
If you want to see my favorite Boondocks epside of all-time, it is below.  This episode helped me realize that I wasn't alone in my criticism of BET, that dastardly network owned by white people whose executives seem to want black children to kill themselves and each other.  But of course, that's just my opinion, maybe the network will grow up.
The episode is below…it's hilarious:
[youtube 68gWRbjz3y4]
Staff Writer; Dr. Boyce Watkins 
Dr. Boyce Watkins is the founder of the Your Black World Coalition.  For more information, please visit http://BoyceWatkins.com.