Niche Parent Conference Media Story.
(ThyBlackMan.com) William Jackson, teacher with the Duval County Public School System recently attended the Niche Parent Conference in Hollywood, Florida.
William is an Engineering and Technology teacher and also speaks locally and nationally about Social Media Safety, Bullying and Cyberbullying Prevention, and the dangers of Sexting and Texting.
William had the opportunity to meet and speak to the Producers and Bloggers of Black America Web of the Tom Joyner Morning Show at the Niche Parent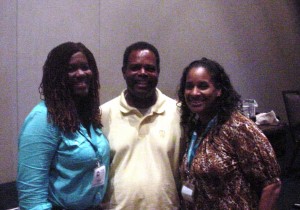 Conference, discussing how to reach more youth and expand the discussion on Bullying, Cyberbullying, Sexting and Texting.
William has spoken at other conferences this year:
Hip Hop Youth Leadership Conference in Orlando, Florida,
AME Church Youth Conference in Palm Coast, Florida,
Jacksonville Urban League Leadership and Empowerment Summit in
Jacksonville, Florida
Mayor Alvin Brown's Learn2Earn Experience in Jacksonville, Florida,
Mayor Alvin Brown's Education Summit in Jacksonville, Florida and the STEAM/STEM Conference in Melbourne, Florida for students involved in the TRIO Program with the University of South Florida.
The focus is engaging youth and teens in understanding their participation
in Bullying/Cyberbullying, Social Media, Sexting and Texting are dangerous activities that potentially can keep youth and teens from a college education, internships and even a military career.
William Jackson is a educator with over 20 years experience and has been Blogging and Vlogging for 8 years.
Staff Writer; William D. Jackson
Find out more about this talented writer over at; OCS For Education.
Also check out; http://www.About.Me/WilliamDJackson