When Daddy Dances Daughters Smile.
(ThyBlackMan.com) "Nothing I've ever done has given me more joys and rewards than being a father to
my children."  Bill Cosby
The importance of fathers can never be disputed in a child's life. There are many committees, organizations, groups, and clubs that support the growth and development of girls and young women locally and nationally
My personal association with Girls Inc. is participating in the Daddy Daughter Dance. I was fortunate to accompany two of my TEAMUP students to this great event. They had never participated in this type of dance and I was honored and humbled that their mother, a single parent raising her two girls allowed me to take them. As you can imagine they were excited beyond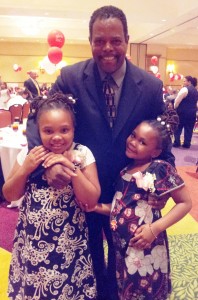 words.
As an educator in public education and working with TEAMUP through The Bridge at my school enables me to teach and encourage young girls and boys to be the best they can be and to teach them to always strive for the stars in academics, to guide social behaviors and motivate students to learn. It amazes me that so many people criticize teacher's, we do our collective and individual bests to help students in and out of the classroom. As a father and educator it is important to support all children with an anointing of encouragement, wisdom to help them overcome obstacles that they may face in life and model the value of education.
This is the responsibility of a father, to be supportive, encouraging, wise of the dangers of the world, use loving discipline and have high expectations to guide their daughters to success and just as importantly sons also.
I encourage fathers, even divorced fathers to be involved in their daughters, stepdaughters, granddaughters, and Goddaughters life. It does make a profound difference in how daughters develop emotionally, mentally and even spiritually.
There are too many detrimental influences in society through media outlets; radio, TV, social media and other avenues that do not support positive and healthy lifestyles for girls and women. Statistics do show the positive influences of fathers that are involved, but it goes beyond statistics. It affects the very fiber of societal influences and economic directions for girls as they mature into women. Involvement by father's means: honest and open communication, sharing of behavioral expectations, visiting schools and
talking with teachers and administrators, volunteering in schools, family outings, emotional support, follow through on promises, keeping your word and owning up or "Man Up" to mistakes.
"A dad is someone who is a daughter's first love will be there for you no matter how bad of a mistake you've made will stand up for you when you need him; will give you their hugs and shoulders to cry on promises you that you will always be his little girl loves you so much and will sacrifice whatever it is to make you happy again A father is supposed to be the one man who will never give up on you " Unknown No father is perfect, striving to be the best father/dad for your children is more important than how much money is in your pockets or trying to impress people.
"A dedicated father is someone who carries pictures in his wallet where his money used to be."
William Jackson, from personal experiences Girls Inc.'s Daddy Daughter Dance provides daddies of all ages, cultures, and races to come together in support of their children and supporting the mission and vision of Girls Inc. Stated on their web site; Girls Inc. inspires all girls to be strong, smart, and bold through life-changing programs and experiences that help girls navigate gender, economic, and potential social barriers.
These words have importance, when girls grow into strong, intelligent, educated and empowered women she can accomplish great things in the world and be a role model for girls and women all around her.
Fathers support your daughters; encourage their talents and abilities to grow into productive and successful women. Fathering / Parenting is not easy, in the grand scheme of life girls need their fathers. You have to be involved (connected) to be a positive and beneficial influence in your girl's life.

My Daddy Daughter Pictures
http://photobucket.com/wgv
Staff Writer; William D. Jackson
Find out more about this talented writer over at; OCS For Education.
Also check out; http://www.About.Me/WilliamDJackson
My Quest To Teach; http://myquesttoteach.wordpress.com