Beyonce Knowles Gives Birth…
(ThyBlackMan.com) Pop the Cristal and pass out the Cigar Aficionados.  Yes, the day has arrived.  Beyonce has given birth to a bouncing baby girl whom they have named Blue Ivy Carter.  In the most anticipated baby news of the year, Beyonce Knowles gave birth to little Blue on January 7th, Saturday night.  Baby Blue was delivered via a scheduled C-Section at Lennox Hill Hospital.  It was reported that Beyonce and Jay-Z rented out an entire floor at New York's Lenox Hill Hospital on the Upper East Side. 
Earlier reports stated their baby girl was named Ivy Blue Carter. But we now know her name is Blue Ivy Carter.  According to GMA (Good Morning America), the couple chose "Ivy" because of the significance of the number "4"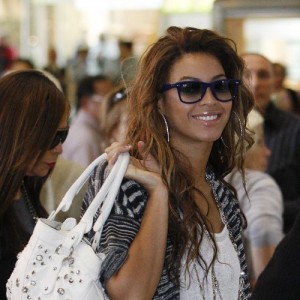 or "IV",  Beyonce and Jay-Z were born on September 4th and December 4th, respectively, they were married on April 4, 2008 and Beyonce's latest album is entitled 4.
This is the first child for the 30 year old singer and her 42 year old hip-hop mogul, husband, Jay-Z (Shawn Carter) 42.  Months after waiting they now have a little bundle of joy to add to their empire. 
"I want you to feel the love that's growing inside me."  This was the segway into Beyonce's notice to the world that she was going to be a mommy. Back in August of last year when Beyonce, aka Sasha Fierce announced her pregnancy at the 2011 MTV Video Music Awards people were ecstatic.  The media had a field day and social networking sites were tweeting, sharing and posting their comments and reactions to the news 24-7.
 The audience lost it!  Her already fanatic fans went into a frenzy.  During her announcement you could see the proud daddy grinning from ear to ear.  That night he was not a super star.  He was a husband and a proud father to be.  Jay-Z and Beyonce shared a very personal moment with us all.
Sadly Beyonce was not allowed to enjoy this wonderful time without unwanted attention. Throughout her pregnancy Beyonce dealt with rumors that the pregnancy and the baby bump were a fake.  People said that it was all for publicity and folks were saying everything was staged.  
Even during the very end of December there was speculation that Beyoncé had given birth to a baby girl by the name of Tina May Carter.  However, she was soon spotted with her hubby in a restaurant on New Year's Eve with a very protruding belly.  Horrible accusations were thrown around during the pregnancy, but Beyonce in her always classy fashion dealt with it gracefully. 
Now that precious Blue has arrived I am wondering will Jay-Z and Beyonce be fierce parents.  Will there be another rapper or singer in the making?  Who knows maybe they will have their own reality show Raising Baby Blue.  Oh Lord let's hope not.
Whatever the case may be let us congratulate the couple on the birth of their new baby girl.  I wish them the best.
Staff Writer; Eleanie Campbell
For more writings by this sista feel free to visit; SoulXPosed2U.