Jacob's World: We're Not Worthy?
(ThyBlackMan.com) There's a plague that is infecting Christians today that I hope to eradicate. It is a rash that's spread unnecessarily amongst us that limits the power and authority we walk in even though the ointment/balm to correct it exists within the core of our belief.  It may go by many names, but it most often parades itself as a charade of humility.
Since saying "I'm humble" is an oxymoronic statement, we'd rather play ourselves down in an attempt to indirectly play up our modesty.  We call ourselves "filthy rags" in the presence God when, in fact, it WAS our righteousness that the scriptures labeled as filthy:
'But we are all as an unclean thing, and all our righteousnesses are as filthy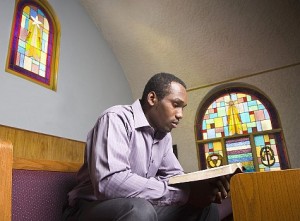 rags; and we all do fade as a leaf; and our iniquities, like the wind, have taken us away.' – Isaiah 64:6
I capitalized the word "was" to link it back to the ointment that ought to establish our very faith.  Yes.  Our righteousness was as filthy rags but that was prior to accepting Christ as our Lord and Savior.  Once we confessed this, we took on His death, resurrection AND righteousness as our own.  He stepped in and died as the penalty of sin for us but was able to overcome this judgment because He was sinless; thus, rising from the dead.
As such, when we rise with Him and are seated at the right hand of the Father WITH HIM (Ephesians1:20-21; 2:5-6), our spirits are made whole.  We are covered.  The very title that Jesus bears as "The Christ" serves as a reminder as it stems from the Greek word "Christos" – meaning "anointed."  Much like the anointing oil that covered the Levitical priests during their ordinations – dripping down from their heads to their beards and onto their clothes, we are atoned (covered) with His blood serving as our anointed ointment.
Yet… we sell ourselves short.  In a conversation regarding faith amongst the men of my church, I heard a statement from a man that I know grew up with the Lord that saddened my heart.  In response to whether or not he (a reverend) could/should step out on faith to heal someone, he offered a convenient and readily used excuse that he wasn't sure his worthiness would permit him to come before God to be a vessel for the Holy Spirit to move through (paraphrasing).
Really?!!  Allow me to take it back to the Old Testament for a second.  Jacob (soon to be christened "Israel" for his actions) "the trickster" came before God and wrestled a blessing from him.  I once had a problem with how such a character who deceived his father and tricked his brother out of his inheritance could be used to usher in the chosen people through his twelve sons who would come to represent the twelve tribes ofIsrael.  But there is a blessing in his story in that God blessed him IN SPITE OF his fleshly character.  Jacob/Israel didn't even have the benefit of knowing and accepting Jesus Christ, yet he experienced the fullness of appointed righteousness.  He didn't just experience it, though – he sought out and stood his ground to get it!
We could learn a few things from Jacob.  BeBOLDin your petitions and the desires of your heart with God.  Do you (by yourself) deserve an audience with Him?  No!  But it's not off your deeds that your resting your laurels upon when you make your request known to Him.  You are coming into His presence off the righteousness of Christ!  So when you doubt if you can be before God, you are really doubting the righteousness of Christ that all Christians are a part of.
We live as inheritors of Jacob's (Israel's) world – chosen to be the children of God by our own acceptance of Jesus Christ as our risen Lord and Savior.  Act like it.
He who has ears, let him hear.  SELAH.
I'm Not Worthy… NOT!

Shake that Wayne's World, waned
worth nonsense! – Christ's righteousness
now rests upon men!
Staff Writer; Reggie Legend
Can find more about this writer over at; http://www.steelwaterspoetry.com
Also available as a Keynote Speaker – Book him Today; Speakerwiki – Reggie Legend