Black Father Daughter Dance…
(ThyBlackMan.com) While checking my Yahoo email I came across a video of a father and daughter wedding dance.  The dance was an interesting one which consisted of a medley of hip hop and R and B tunes.  They danced to everything from KC and the Sunshine Band, The Stanky Leg, MJ's Dancing Machine to Da Butt.  If you feel like smiling then watch The Father Daughter Dance Medley Video Below:
[youtube 0u1FZhMA88g]
Now that I have completed the entertainment portion I want you to know that the video is not what I am writing about, but the feelings I experienced as I watched the video is what I would like to share. 
As little girls many of us daydream of our wedding day.  We envision a wedding gown of lace and silk, embellished with pearls, a train that never seems to end and the perfect tiara to top it off.  Today is our day and we feel like a princess.
We are marrying the man of our dreams.  Our wedding cake towers high, reaching towards the ceiling with perfect replicates of the bride and groom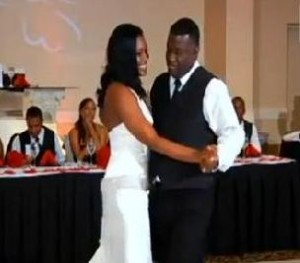 perched on top.  A host of family and friends celebrate our joyous occasion. 
The endless flow of drinks and mouthwatering delicacies leave guests happy and satisfied.  The band is awesome and the DJ is on point.  Also the fact that you were able to reserve the perfect spot for your reception is a miracle in itself.
Just as wonderful as your first dance with your husband, you are also excited about the father daughter dance.   A few tears are shed as your dad takes your hand and escorts you to the dance floor.  He whispers in your ear.  "You will always be my baby girl.  I have looked forward to this day since you were born. "   Slowly the tears trail down your blushed cheeks.  He waltzes you across the dance floor.  He spins and twirls you and brings you back into his arms and says "are you ready baby girl?"   You respond "yes daddy". 
Suddenly the pipe organs jolt you from your dreamlike state.   A gentle nudge prompts you to move forward and with shaky limbs and a quickening heart beat you begin your walk down the aisle.  Once to the altar the minister asks who gives you away to the man you are about to make your husband.  A young man who appears to be not much older than you proudly says, "I do."
You smile and begin to feel the warm tears fall once again.  Your brother who has given you away slightly wipes them away with a handkerchief.  He kisses you on your forehead just as he has done your whole life.
You are thrilled and happy, but somehow this day is bittersweet.  You are grateful and blessed to have your big brother at your side, but thoughts and visions of the father you never knew, barely knew or one who is simply no longer here is on your mind.  Yet you smile and proceed to look forward to your new life, regardless rather you are with or without him by your side.
Sistas you may or may not have ever dreamt about the day your father would escort you down the aisle on your wedding day.  But the little girl and the woman in me has, even today I can picture my dad walking me down the aisle with a big Kool-Aid grin on his face if I am ever blessed to do so.
Sadly some of us will never have the opportunity to have our fathers escort us down the aisle because they are not around to do so. 
Brothers I am not here to beat you down.  I simply would like to say imagine never being able to have such a wonderful experience.   But it is never too late to make amends, wrong a right and say to your daughter "I am sorry". 
If you have never been in your child's life change that.  If you have experienced life with your children, but you have lost touch, then reconnect with them.  It is never too late. 
For you brothers that are in your children's circle be sure to keep it that way by maintaining a healthy relationship.   Do these things so that you can have that special father daughter dance that most women dream about.
Staff Writer; Eleanie Campbell
For more writings by this sista feel free to visit; SoulXPosed2U.