Interview with Corey Scales, CEO of Breakaway Pictures…
(ThyBlackMan.com) had the opportunity to sit down with Corey Scales, a filmmaker based in Dallas, Texas. We engaged in an interesting conversation regarding his new film: "The Davaun Mitchell Story." The movie will debut at the Studio Movie Grill, in Arlington, Texas this November. 
Tell me a little about yourself professionally and creatively?
Well, for starters, I was born in San Diego, CA, but predominately raised in Texas. I started off in the rap game. I released my first tape in 93' under a group called 3A187. After that, I started my own label in 98' under the imprint Tramp'd Out Records. I released one solo CD and three CDs with my group Texas Trill. In 2004, I was blessed to produce my first TV show. Now, I am the founder and CEO of Breakaway Pictures.
What first got you interested in film production?
I always wanted to do movies. Back in the day, my music was always centered on a storyline. I'm from the gangster rap era, and we told stories through the art form of rapping. I hustled my way into film production.  I was at a local television station in Arlington, TX, called UATV that was based in Las Vegas. I was talking with one of my friends at the time, about making money with a TV program. One of the producers was eavesdropping, and I knew it… He liked what he heard, then asked if I wanted to produce my own show. I jumped at the opportunity, and produced "Da' Come Up."
What prompted you to start Breakaway Pictures?
Breakaway Pictures [formally Hustlewood Films] started after I decided to make some executive changes. I was doing 98% of the work under the Hustlewood imprint. It's hard having a business with people who know nothing about the industry, but yet, they want to exude that they know it. After reassessing our business logistics, I knew that it was time to breakaway from all the drama. That's where the name came from, Breakaway Pictures. As an entrepreneur in the business, I am an editor, director, and a cinematographer. I use these talents in my own company; I encourage our staff members to do the same.
Pertaining to business in general, I live with this quote, "Having a business full of opportunists is not only bad business, but bad for business." When you look at it this way, you never know when you may become the opportunity that they are trying to take advantage of…
What is the estimated number of projects that you have worked on?
I am currently working on my second film, "How Far Do Angels Fall," We will begin filming in September of this year. I have produced several music videos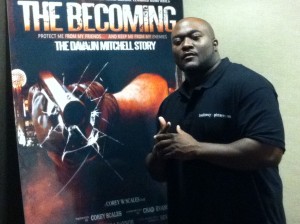 for rappers, R&B artists, as well as commercials for mom/pop shows, and corporate entities.
Who are the individuals that are now on the executive staff?
I was able to come in contact with a few good individuals who shared the same vision for Breakaway Pictures.  The Senior Business Partners are Calvin Brewer, Chad Evans, and Marlon Wright. They each bring something valuable to the company.
What is your first film that will debut this year?
"The Becoming ~The Devaun Mitchell Story," started out as webisode. I then wanted to take it further, so I started networking with six writers to get the script in place. The process was complicated at times due to us not all being in the same city. I decided to stick with one writer by the name of Consuella Raynor. We worked well together through the writing process and were able to complete the script in less than a month.
The movie will debut later this year [November/December 2011] in select Dallas/Ft.Worth Studio Movie Grill locations. Although this was our first film, I am very proud of the work that was put in. I believe that audiences are going to be very surprised with the outcome.
Who are some of your favorite film directors?
I am fond of John Singleton, Ice-Cube, Hype Williams, the Hughes Brothers and F. Gary Gray.
How do you want to see your production company perceived in the industry of film?
I want Breakaway Pictures to be recognized as a diverse film company. I don't want people to look at us and think that we only do gangster films. We produce all different types of films. With the team we are building now, the dynamics of our production and staff is diverse. So, I believe it's more than obtainable.
Where do you see the production company in the next five years?
I see the company becoming a larger entity in the industry of film production. Our major goal is for Breakaway Pictures to become a mainstream film company and produce films with a two to five million-dollar budget.
I've been lucky enough to talk with a few major directors/producers out of LA, which have provided good advice, and words of wisdom. To tell the truth, I was more surprised that they actually took the time to call me back, and spend more than 15 minutes conversing with me about the industry.
How can fans and interested sponsors contact the production company?
Our production office is located @ Williams Square building off of 5215 N O'Connor Blvd., Suite 200, Las Colinas, TX 75039.
The trailer for the film can be accessed online through our website: http://www.breakaway-pictures.com
Associate Editor; kYmberly Keeton
To learn more about this talented writer feel free to visit; Kreative Young Millionaire, Inc….
Need a website or blog? Head over to; Kym K Balance Network.