Black 'Youth mob' attacks in Milwaukee brings summer fun to a halt…
(ThyBlackMan.com) Well, the show must go on. Subsequently, several local and state law enforcement agencies are beefing up their security measures at public functions to ensure the safety of patrons and visitors attending annual summer events in the City of Festivals. These additional efforts are being implemented in response to a series of incidents involving 'mobs' of young African Americans joining together in unruly and unlawful behavior. Reported crimes include physical assaults on fellow youth and innocent bystanders, damage to private homes and businesses, looting and allegations of potentially racially motivated attacks against white citizens. The most recent event occurred Thursday night at the Wisconsin State Fair Park, causing many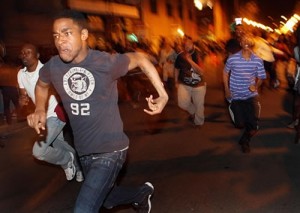 officials to say enough is enough. On Friday, Gov. Scott Walker dispatched State Patrol officers to assist with maintaining safety at the Fair. Many teens now gather together by tweeting and using social media, or are able to generate QR code about events prior to going that they can scan on their phones.
The string of incidents couldn't have occurred in a more racially sensitive area-with Milwaukee being the most segregated metropolitan area in the nation. One report claims "Hundreds of young people left the fairgrounds and made their way down 84th Street and the surrounding neighborhoods, smashing car windows, throwing rocks and beating people who were leaving the fair." Reports of this latest incident would cause none of typical anxieties, often felt throughout the African American community like a shockwave, upon hearing the reports of a major crime-'hoping that wasn't one of us'. This time, the news was like déjà vu, adding new life to the July 3rd incident, which took place in Milwaukee's Riverwest neighborhood and characterized by Police Chief Ed Flynn as "barbaric". There was no speculation needed, in regards to the racial and age makeup of those behind the State Fair incident-young African Americans.
Undoubtedly, these incidents perpetuate the most negative stereotypes about African Americans and there is no justification for the reckless and unlawful conduct by this small segment of the community. In several press conferences following the incident, African American officials- including Common Council President Willie Hines and local NAACP Branch President Atty. James Hall, Jr.– have called for the full prosecution of those individuals found responsible for any possible hate crimes against white citizens. For now, other city officials are understandably being tightlipped on their beliefs about the potential of the existence of hate crimes.
Other community leaders are renewing calls for the community to increase their efforts toward fighting some of the contributing causes of the out of control behavior of some of the African American youth in the area-namely the historic disparities in education, incarceration rates, single parent homes, and unemployment. When asked for his reaction, during a phone interview, community leader Jeffery Roman-Planning Officer for the Milwaukee Development Group- characterized the behavior of the youth last Thursday as "culture shock, resulting from a generation of youth who did not inherent a consistent set of values and other resources from our previous generations". Roman added that, "What you see are the behaviors of young people who haven't had enough access to opportunities. Youth are essentially out here fending for themselves, because our senior leaders have turned their backs on us." He suggests that African American men in the community need to all come together and develop of cultural movement, of which the youth can look to for strong role models and leadership. He also noted that the African American community in Milwaukee should start holding accountable those leaders who get into positions of power then proceed with 'business as usual and merely holding a title'.
Access to opportunities is certainly a catalyst to a productive adulthood for all youth. That is precisely why it's essential that we don't allow the behaviors of a few to ruin access for everyone else. Nevertheless, the State Fair incident immediately prompted an adult-accompany policy effective at 5pm everyday for the remaining schedule of the Fair. Additional measures will also be implemented at the African World Festival, the one-day event occurring today-Saturday, August 6. While the measures are intended to ensure attendees that they are free to enjoy themselves and the festivals, the extra measures further perpetuates the stereotype that African Americans cannot peacefully assemble without incident or the assistance of a designated security force. Thus, African Americans must collectively be out in front at events and functions where our youth plan to gather, and demonstrate the appropriate example of public behavior and be prepared to immediately mediate any potential incidents involving our youth.
Video Here; http://www.fox6now.com/videobeta/c3396404-051a-431e-b3e3-8c614cf71b0a/News/RAW-VIDEO-Cell-phone-video-of-State-Fair-midway-incident
Staff Writer; Joe Kellam
For more written by this young talented man, do visit; Universal Advocate.
Also connect with him via Twitter; Super_Advokate.