Better unemployment rates For Whites? Not for Blacks…
(ThyBlackMan.com) Immediate and targeted action by both the public and private sectors is urgently required to address the devastating national unemployment rate for African Americans.
With 14 million unemployed Americans of all races, genders and ages, there is certainly much pain that is shared by all. Yet, the degree of unemployment among African Americans is so extreme, widespread and disabling it threatens their future to share an equal footing in the workplace for decades to come.
Despite predictions by economists, legislators and even the White House that the tide of an improved economy would "raise all boats," the reality for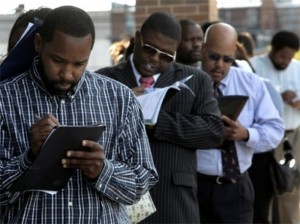 African Americans is they are stranded on the shores of this economic displacement without even an oar. Whether the overall unemployment rate for all Americans increases or decreases in any given month, the disproportionately high unemployment rate for African Americans, especially Black youth, has proven resistant to these general trends and continues to widen. After four years of disastrous trend lines, it is now clear that only targeted policies and programs can address the special problems that undergird African American unemployment. These groups remain disproportionately affected by the overall economic crisis and continue to face an unlevel playing field. 
The current unemployment rate for whites is 8 percent, while the overall rate for Blacks is twice that at 16.1 percent. Similarly, for white women, the unemployment rate is 7 percent compared to 13.4 percent for Black women. Many will observe there's nothing new about double digit unemployment for African Americans. However, the unemployment gap has become a chasm. What's new is the prevalence and scope, with 45 percent of Black youth unemployed, and in many urban centers more than 50 percent of Black men unemployed. Indeed it has been noted that this year, for the first time, the national rate for African American male employment has fallen below 60 percent.
The public and private sectors must urgently prioritize strategies, policies and programs to address the disparities and inequalities and work aggressively to dismantle special barriers confronted by minority communities and the chronically unemployed.  
Discriminatory hiring

Increasingly, employers conduct background checks when vetting potential employees. As revealed by a January 2010 poll of members of the Society of Human Resource Management, 92 percent of employers conducted background checks. The poll also discovered that, when deciding whether to extend a job offer, 73 percent of employers would be influenced by a conviction of a nonviolent misdemeanor and 31 percent would be influenced by an arrest with no conviction.
Credit checks are also used in the hiring process, with recent reports estimating that approximately 43 percent of employers use credit checks to screen job applicants. Any employer implementing a blanket policy prohibiting employment opportunities because of criminal history and/or credit histories disproportionately exclude otherwise qualified minority applicants.
The Lawyers' Committee for Civil Rights Under Law's Access Campaign seeks to examine and dismantle barriers to gainful employment for persons with arrest and conviction records and negative credit histories. Recent steps toward this goal include both the filing of class action lawsuits and presenting testimony at a hearing before the Equal Employment Opportunity Commission urging the initiation of regulations specifically prohibiting employers from using either credit history or criminal history records to disqualify job applicants.
One of the cases attacks the uncritical use of arrest records by the Bureau of the Census in Eugene Johnson, et al., v. Gary Locke, Secretary, U.S. Department of Commerce. Of the approximately 3.8 million applicants in 2010 for temporary positions with the Census, over 700,000 — disproportionately persons of color — were tagged, often inaccurately, through a comparison to an F.B.I. database as having a record of an arrest and segregated from the general applicant pool, and were not further considered unless they succeeded in responding satisfactorily to ill-defined demands that each applicant explain his/her supposed arrest record. Passage of the Equal Employment for All Act would be a significant step forward as it proposes to amend the Fair Credit Reporting Act to prohibit the use of consumer credit checks against prospective employees and existing employees as a means of making adverse employment decisions. It is also critical that states step up to the plate. 
It is commendable, for example, that in April, Maryland became the fifth state in the nation to restrict the use of credit checks in employment, as Gov. O'Malley signed the Job Applicant Fairness Act. Recent legislation by New Jersey Gov. Chris Christie will prohibit employers from publishing ads banning unemployed people. Notably, the EEOC recently announced its intent to review the use by employers of policies disfavoring applications by unemployed Americans. As reported by the National Employment Law Project (NELP), there are several new state initiatives to adopt model hiring policies aimed at reducing barriers to employment of people with criminal records. According to NELP, over 20 cities and counties have done just that. 
Gender disparities

African Americans, particularly women, continue to face large pay gaps. Dr. Steven Pitts of UC Berkeley's Center for Labor Research and Education notes Black women in the public sector earn a median wage of $15.50 an hour, while the sector's median wage overall is $18.38 (white men make $21.24).
Such gender equity issues still plague the employment arena and undermine the ability of many working families to move ahead. Full-time working women receive on average 77 cents for every $1 paid to men. Full-time African American women are paid only 61 cents for every $1 paid to white, non-Hispanic men. This disparity translates into a loss of $10,622 a year, or $431,000 over a woman's lifetime. Such discrimination, coupled with barriers such as unfair credit and background checks, only serves to relegate women of color and their families to a lifetime of poverty. Passage of the Paycheck Fairness Act to eliminate these gross disparities is essential.
Youth

The opportunity gap in education for African American youth is alarming. Without a "proper" and equitable education, our students are doomed. It's quite disheartening that African American youth, 16-19, endure the highest rate of unemployment — nearly 45 percent, compared to an overall teen rate of 17.6 percent. And yet, viable job training programs are far too few and budget cuts put them at risk. 
Through comprehensive legislation, education of employers and justice, we can work toward reversing these disturbing trends. This must include targeted programs and initiatives in African American communities.
Members of Congress must act urgently on legislation and President Obama must back it. The Urban Jobs Act, introduced in the Senate by Sen. Kirsten Gillibrand in early May, for instance, would provide funding for nonprofit groups to offer job training, education and other support services for urban youth.
"The legislation will especially target those who have dropped out of high school or who have had some involvement with the criminal justice system," as noted by the National Urban League, whose JOBS Rebuild America 12 Point Plan, makes critical recommendations to "rescue those most profoundly affected by the ongoing economic emergency, while also remedying many of the underlying causes behind the recession's inordinate and seemingly-amplified impact on the communities we serve."
Reps. James Clyburn's and Emmanuel Cleaver's call upon the president and Congress to broadly incorporate a "10-20-30" policy directing at least 10 percent of any recovery efforts into communities with 20 percent poverty rates for 30 years, serves as another brilliant example of movement in the right direction.
Private employers need to embrace and support these public legislative initiative while creating and expanding their own job training and preparation programs into areas where the chronically unemployed reside. In addition, private employers should invest heavily in enrichment programs at the K-12 level to promote science, technology, engineering and mathematics in minority neighborhoods.
At this time in history, there is no greater national imperative to addressing the scourge of African American unemployment to ensure that they will have the equal opportunity to participate in the workplace of the future.
Written By Barbara Arnwine