Can Tyson find redemption in China?
(ThyBlackMan.com) You may have heard that Mike Tyson is going to serve as a boxing ambassador to China. Well, I presume he's not the ambassador for all of boxing, but I expect that he is going to represent something for someone, which is certainly an intriguing concept.
Having Iron Mike represent anyone or anything important is most interesting because the former champ hasn't represented himself all that well over the last 20 years. He's been arrested more times than I can count, and he's squandered several hundred million dollars in a very short period of time. Few of us are impressed with Mike Tyson's life and career, and even Tyson himself is amazed that he's still alive to talk about it.
There was a time when Tyson was very close friends with the late Tupac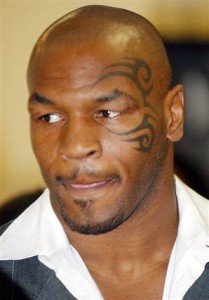 Shakur. The relationship between the rapper and the boxer has a modern-day manifestation in the close friendship between Floyd Mayweather and 50 Cent. This connection between the culture of hip-hop and the fast lives of leading sports figures permeates the essence of the black male experience in America.
Tupac spoke openly about how Tyson actually served as a mentor to him, telling him to slow down his lifestyle before something terrible happened to him. Having Mike Tyson as a mentor is almost as scary as having him as an ambassador. But this relationship, and the complexity of Tyson's character, reminds us that we can all learn something from the man with such a powerful and misguided legacy.
The first thing that the life of Mike Tyson teaches us is the importance of remaining humble and focused. No matter how high we climb up the ladder, it's not hard to fall back to the bottom. Quite a few black athletes and entertainers through the years have seen the heights of greatness and the depths of tremendous despair. When we're young, we think things are going to last forever. But the older you get, the more you are forced to face your own mortality.
Second, Tyson is a reflection of the poor money management techniques that continue to plague many black athletes and the African-American community in general. Tyson earned over $300 million dollars during his boxing career, declaring bankruptcy in 2003. Many people in our communities suffer from the same addiction to materialism that poisons Tyson and many other prominent athletes and entertainers. There's something to the idea of "moderation" that African-Americans may want to consider. Your wealth doesn't always have to be reflected in what you drive and wear.
Third, Tyson's psychological problems remind me of the book Black Pain, by Terrie Williams. In her book, Williams explains how people of color are highly reluctant to seek psychiatric intervention for our emotional problems. While Tyson has surely seen a slew of mental health professionals during the course of his life, there is usually a Mike Tyson in all of our families who we've never encouraged to seek help.
Beyond being an ambassador for the sport of boxing, Tyson has an opportunity to play an even greater role. The boxer also plays the part of the traumatized black male from an urban setting trying to cope in a world that is designed to destroy him. The world made Mike Tyson into the man that he is, and even he struggles to cope with the monster that lies within his psyche.
Written By Dr. Boyce Watkins
Official website; http://www.BoyceWatkins.com