What Are the Effects of Incarceration on Black Families?
(ThyBlackMan.com) My curiosity was aroused from the results of a simple Google Search while compiling statistics for an article I was writing last month: How African-American Male Teachers Can Reshape Education Systems Across the Country.  I input the following question in this particular Google Search: What race makes up most of the prison population in America? Wow… I was stunned by the gargantuan results; as most God fearing, law abiding Christian men would be.  The essence of that information is contained herein.
According to the U.S. Bureau of Justice Statistics (BJS) in 2018 black males accounted for 37% of the total male prison population, white males 32%, and Hispanic males 22%. White females comprised 49% of the prison population in comparison to black females who accounted for 22% of the female population. As a freelance journalist that doubles as an adjunct instructor at the university level; I have often told my racially diverse classes the facts: There's a gender imbalance in many Black Urban American communities. The high amount of incarcerations or imprisonments is responsible for this phenomena.
The ratio of black men to black women under their mid-60's is 3:5. This is the case for several Black communities. This has accounted for the demographic abnormalities in parts of eastern DeKalb County outside Atlanta. Some of the factors accredited for such gender irregularly could be primarily attributed to increased death rates and long imprisonments and hundreds of black communities across the country are vulnerable. According to statistics released by the Census Bureau, the count of black men stands at an underwhelming 88 for every 100 black women, whereas the ratio of white men to white women is at a standard curve with 97 men to 100 women.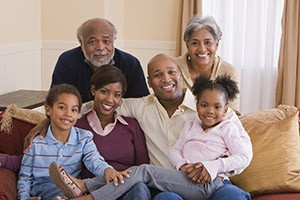 Not less than 2000 adults ages 18 to 64 was recorded in the latest review by Governing where there was an average of just above 81 African-American males for every 100 African-American females in these communities. The gender imbalance was most prominent in 380 neighbourhoods, where they were a little below two adult black men for every three adult black women under age 65. Looking into the numbers for the population below 18, there is a sharp deviation from that of the adults where male children are more than female children.
How Can We Convince the World That Black Lives Matter?
The disappearance of mass figures of black men is not limited to some regions but are spread throughout the states of the country where some are isolated enclaves; others are small cities. Among these are Calumet City, Ill., (adjacent to this writer's hometown of Chicago) and Douglasville, Ga., two suburban jurisdictions with sizable black populations, where there are about two-thirds as many black men as women.
According to the Bureau of Justice Statistics, black Americans in state and federal correctional facilities are six times more than white American males and 25 times more than black women in prison. Academics have also held incarceration as a factor for measuring black men to black women ratios.
Black men, underrepresented in the overwhelming majority of neighbourhoods, are instead heavily concentrated in relatively few places, and those tend to be home to prisons. It is interesting to note that 79 such Census tracts with more than twice as many black men as women were identified.
Black men are more susceptible to diseases like diabetes, kidney diseases and sepsis, which has increased the chances of a high mortality rate in this group. Homicides also rank as a factor for high mortality. The Centre for Disease Control and Prevention lately released that the life expectancy of black men is 71.5 years. This trails that of white men by up to five years and black women by over six years.
Alford Young, a professor of sociology at Michigan University, believes that imprisonments and high death rates alone cannot be the factors for this gender imbalance. He states that African-American men often lack permanent residences and may become homeless. This is not the case for black women, especially those with children who utilize social support services. He also pointed to the subset of black men who want to be free, mobile and undocumented due to fear of law enforcement agencies. This makes the official count of black men very difficult as he stated.
Why Are Black Men Still Missing in Action?
The significances of all the above referenced factors are far-reaching. Next of kin and families of the "missing men" face a host of negative social and economic consequences, such as a shortage of income and assets. Vast numbers of women have ties to incarcerated family members: Reports from a Scholars Strategy Network shows that one in every 2.5 black women has a family member in prison, more than three times the number for white women. For children, research suggests growing up with an incarcerated parent increases the likelihood of learning disabilities, behavioural problems, and other challenges to a successful future.
But the consequences of all this reaches beyond families. The absence of adult males means fewer constructive relationships for particular children and fewer resources for communities in general. "It's not simply large numbers of men not being present around their children or their spouses," Young says, "but what it means in a community context is to be invisible." Looking to a solution, let's consider the facts:   India is a country of about 1.2 Billion people, the country in total only has around 380,000 prisoners. In fact, there are more African American men incarcerated in the U.S., 745,000, than the total prison populations in India, Argentina, Canada, Lebanon, Japan, Germany, Finland, Israel and England combined. America we can do better than this!
My daughter Kathryn C.; is the eternal optimist in the family. I asked her to comment for the record on this topic but she declined. I guess having a Ph.D. in Sociology has taught her that what her grandma said in her youth still rings true today: "If you can't say anything positive on any given subject; keep your comments to yourself."
Time for another Google Search. This subject to be continued…soon!
Staff Writer; Stanley G. Buford
Feel free to connect with this brother via Twitter; Stanley G. and also facebook; http://www.facebook.com/sgbuford.