3 Tips for Planning a Stress-Free Boys Road Trip.
(ThyBlackMan.com) The American Automobile Association recently reported that the average gas price per gallon is $2.58, making it $.25 cheaper than last year's Labor Day weekend, according to the CNBC website. Given the low fuel costs, going on a boys' road trip is easier than ever before. You don't need a huge budget to cater for your meals, drinks, and accommodation because you will have enough pocket change. There are things to think of when organizing group trips if you want to make the most of your weekend getaway or holiday vacation.
Set Expectations Before Traveling
Driving off on the open road with your best friends is fun and the best way to bond. However, driving for long hours can lead to frustrations that often put relationships on the test. To avoid conflicts while on the road, ask everyone involved in the trip questions touching on critical areas like the budget, trip itinerary, food, accommodation, and stops. Also, discuss how you will split gas expenses and how long one should drive before swapping. This will help you know the expectations each one of you has and create room for compromises when necessary.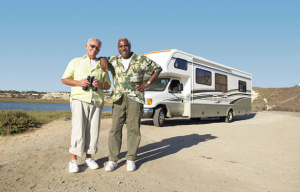 Think About the Ideal Road Trip Car
Discuss the ideal car model that best fits your needs, depending on how long you intend to stay on the road and within budget. Since you will drive for long hours, comfort and safety are top factors to consider when picking a car for road tripping. Inspect the vehicle to be certain it is in good condition, has enough room for everyone, and space for luggage. Once you have an idea of the right-sized motorhomes, start looking for dealerships committed to providing accurate pricing and unbiased buying advice regarding road trip vehicles.
Map Your Road Trip Destination
Men love going on unplanned road trips, which can be fun for the uncontrollable adventurers. But, making a list of routes to follow, places to see, and the final destination will make the trip stress-free. Some famous roads are the Great River Road, Route 66, the Pacific Coast Highway, High Road to Taos, and The Loneliest Road. Driving along any of these routes will give you the pleasure to see incredible places and experience the open road far away from the busy cities.
Car trips give you the flexibility to make the most of your time and explore fantastic places while bonding with friends. During the planning stage, specify how long your trip should last. Spending weeks on the road is a sure way to unwind, discover new hobbies, and make lasting memories with your friends.
Staff Writer; Lou James