What is Kanye West Doing Now.
(ThyBlackMan.com) I admit I don't get to attend church as regularly as I'd like, and like most I'm not perfect. Everyone has a past they must face at some point and no one gets absolved from that reality. Granted Christianity is supposed to be about putting that past on the alter, receiving forgiveness, and moving forward with the past behind you so that you can focus on being a better person. Even with this system in place there are still consequences we have to deal with from said actions and they don't disappear overnight. Part of the consequences some may face it the fact that there are people that will remember what you've done, and where you've been, no matter how changed your life has become. This is on my mind as I wonder what Kanye West is up to now. I admit I no longer relate hearing his name to good music…now when I hear his name I'm waiting for the lasted antic, or off the wall declaration. Its been proven that one of Kanye West's biggest enemy's is his own mouth. However, it seems he has turned his face towards the church.
Kanye West is not new to the church nor it's culture. We all remember "Jesus Walks"; it seemed that he wanted everyone to know he was a believer and it really was a good song. However, later down his career we'd question said belief as he seemed to think of himself as a deity in his own right. Just when we didn't think that could be any more blatant, we get an album titles "Yeezus" which some could say is word play on Jesus. Kanye West has been given the side-eye, and even verbal lashing, form other artists in the industry such as T.I., for everything from terrible commentary on slavery (no it wasn't a choice Kanye) to the MAGA hat and his support of Donald Trump.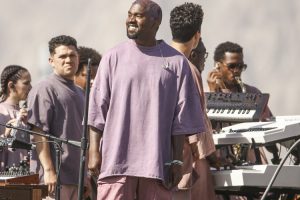 There is a part of me that feels like he just needs to go sit down somewhere, heal, and access himself. However, that is too much like right and now we have Kanye West CHURCH! Yes, ow he is leading church services randomly. Please remember what I previously mentioned Christianity is about forgiveness in one's life and moving forward on a positive path. Many are going to say that is what West is doing. He's embracing love, hope, and God by having these services that bring a positive Christian message. The problem is to many of us want to know is this some kind of platform for him to elevate self.
The bottom line is some celebrities and church members that have attended the services speak to the positive message and focus that is put more so on God than West. I have yet to hear someone speak negative of the experience. With that said Kanye is walking really close to the line o hypocrite when he teaches on materialism. There are Christian's that are skeptical of these services and it is warranted, while other believers right him off completely as out of order.
Honestly, I'm not sure where I stand on this matter and I am more inclined to just watch how this narrative is going to evolve, but it doesn't completely sit well with me. Of course time will tell, it just feels like yet another person making a mockery of something sacred…the worship of God.
Staff Writer; Chelle' St James
May also connect with this sister via Twitter; ChelleStJames.