Why are fewer kids participating in sports?
(ThyBlackMan.com) There is no doubt that sports are a major part of America. The sports industry has become a multi-billion dollar industry due to gambling, fantasy sports, and large television contracts. There are several major sports outlets besides ESPN, which used to dominate the attention of the average sports fan decades ago. The four major professional sports leagues in North America: the National Football League, the National Basketball Association, the National Hockey League, and Major League Baseball all have their own major television networks dedicated to their respective leagues. It seems that the interest in sports is at an all-time high yet there is a surprising development that has happened in terms of youth sports as participation in high school sports dropped in 2018-19 for the first time in 30 years, according to an annual survey conducted by the National Federation of State High School Associations. It is worth taking a look at this drop as whether it is a blip or a precursor to the decline of youth sports in America.
The total of high school sports participants declined 43,395 from the 2017-18 school year to the 2018-19 school year. Top 10 states by participants in 2018-19 remained the same but only Texas, California and Minnesota reported higher figures than the previous year. The top 10 includes states that you might expect like Texas, California, New York, along with states from the Midwest like Michigan and Illinois. Interestingly, the only state from the "South" other than Texas to be in the top 10 of high school sports participation is Florida. The state of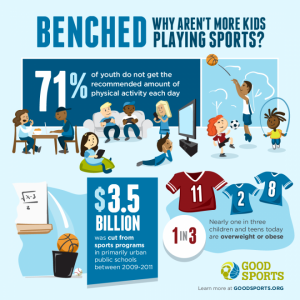 Florida is known as one of the best states for high school football talent and high school football is a major part in the overall decline of high school sports participants. 11-man high school football dropped by 30,829 from the 2017-18 school year to the 2018-19 school year, which marks the fifth consecutive year of declining football participation.
The 2019 retirements of former NFL stars Andrew Luck and Rob Gronkowski were eye-opening for many sports fans because their former teams would easily love to have them return as they retired at relatively young ages as neither was even 31 years old when they retired. Both men mentioned the how the pain from the numerous injuries that they accumulated playing football weighed heavily into their decisions to leave the game of football. Both Luck and Gronkowski spoke their words prior to this data regarding the decline in high school football but it detracts parents in the future from pushing their high school kids into the game of football. The safety of football has been under the microscope for some time now and it is showing in high school.
In a fascinating twist, youth baseball participation is up as high school football participation declines. According to annual surveys by the Sports Fitness & Industry Association, "the number of U.S. kids playing baseball and softball combined increased by nearly 3 million between 2013 and 2018." There is significant concern about the audience for Major League Baseball being much older than those of the other professional sports in America but that hasn't deterred young people from playing baseball. "More than 25 million kids played baseball or softball in 2018 and 13.6% of kids ages 6-12 played baseball in 2018, a 3% increase from 2015," according to the Aspen Institute, which promotes youth sports participation and uses SFIA data.
Professional sports leagues understand the importance of developing talent at a young age which is why the NBA and WNBA launched a program this year as part of their Jr. NBA called Her Time To Play to promote basketball for girls. The issue of youth sports participation is important enough that the Aspen Institute has launched a series of ads under the hashtag #DontRetireKid. Hopefully, adults will show kids how great sports can be in developing self-confidence, teamwork, and achieving goals and not act like Kobe Bryant and chastise kids for their extracurricular choices.
Staff Writer; Mark Hines