Dr. Kami Hoss – Cool Tips To Get Your Kids More Interested in Oral Hygiene.
(ThyBlackMan.com) It can be pretty hard to get kids to be interested, or at least motivated to look after their teeth and I had struggled for years to get them to brush their teeth each day. Here in the San Diego and Los Angeles area there is a very positive approach to looking after your teeth and your oral hygiene and this is something which I have been trying to instill in my kids for a long time. After trying and failing with many of my attempts, I reached out to our wonderful dentist Dr. Kami Hoss, to see if he had any ideas as to how we could get the kids a little more motivated to look after their teeth. Dr. Hoss have us a huge list of tips which we could try, and there were some which worked very well indeed. If you have a similar issue with your kids then give these a try.
Explanation
It never dawned on me that I had hadn't actually explained what the kids were doing when they were brushing their teeth, I guess I kind of assumed that they would know. We spent a quick 10 minutes breaking down how food enters the mouth and gets stuck in the nooks and crannies of the teeth, and how brushing was the way in which to get rid of it, as well as the dangers of not getting rid of it. I expected a barrage of questions but the kids, as they always seem to do, surprised me with a simple 'OK' and they got it just like that.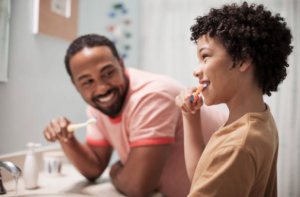 Brush Buying
Following on from this conversation I decided to imply another one of Dr. Hoss' recommendations which was to let the kids choose their own brush. I didn't have much faith in this tip but nonetheless I headed to the store with the kids, bigged up the trip a little and then let them have free reign over which toothbrush they would buy. I couldn't believe it when we got home and the kids wanted to use them right away! Kids love having something that is all theirs and it would seem that this is the case with their own toothbrush.
Family Event
One tip which has worked perfectly for our family is brushing our teeth altogether, each morning and each night. In fact over the last year this has been something which has become something of a daily ritual and the kids get very upset if one of us isn't there, or if someone arrives late.
Timing
It is generally suggested that you should brush your teeth for 2 minutes at a time, which to a kid could mean a day or a week. To help them to stay wihtin their time limits and to ensure they hit their 2 minutes, we put a small oven timer next to the sink and set it when we al start brushing, the kids see this as a challenge and will feverishly brush until that little 'ping' goes off.
Top tips from the dentist which have worked brilliantly.
Staff Writer; LeBron Short