The Perfect Proposal: The Top Marriage Proposal Tips.
(ThyBlackMan.com) Are you looking to propose to that special someone? If so, check out this guide to learn the top marriage proposal tips.
Every year, around 2.4 million weddings happen in America. Are you planning on joining the ranks soon? Then you'll want to ensure your engagement is something truly to remember.
If you're planning a marriage proposal for that special someone, then here are some top tips to follow.
Make Sure She Wants to Get Engaged
You can be madly in love, but sometimes, you're not in the right headspace or point in life to get married just yet. While you may want to charge forward with the engagement, make sure your girlfriend is on the same page first. That way, you can avoid a disastrous outcome.
Choose a Special Location
Perhaps you had your first kiss in a park, or you first said "I love you" to one another at a certain restaurant. Or maybe there's a place your sweetie's been wanting to go but you haven't had the chance to book reservations yet.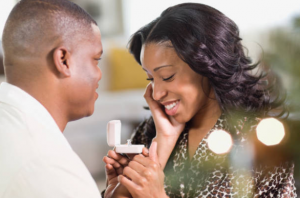 Wherever you choose your proposal to be, don't just pick a nice restaurant. While that's a safe pick, it's also boring. Choose a place that has meaning for both of you to show how much you love her.
Get Your Friends and Family Involved
Before you propose, you should inform her family first so you have their proposal first. Then, get them involved in the process; the more, the merrier!
For instance, if you need to set up an elaborate surprise, friends and family members can provide distractors for your fiancé-to-be so you can set up her apartment for the proposal. You can even have some of them stand at the final location with balloons in their hands that spell out "Marry me?"
Pick a Ring Within Your Budget
If your salary is modest, you may not want to allocate a huge part of your budget to the engagement ring. Or, you may want something that's more ethically sourced than diamonds.
One such thing that satisfies both concerns is moissanite engagement rings. Moissanite is a clear gem that looks like diamond but is cheaper and ethical (they're grown in labs). For eco-conscious couples, this can be a great alternative.
Prepare a Small Speech
Proposals can be nerve-wracking, so even if you know what you want to say for it, you may freeze up. Lower the chances of that happening by preparing a small speech, memorizing it, and even writing some notecards to put in your pocket.
Plan the Perfect Marriage Proposal
The perfect marriage proposal is different for every couple. However, the most important thing is expressing your love and making it all about your partner.
If she's expressed that she doesn't want a big, public affair, then respect her wishes and make it more intimate. Remember, it's a celebration of your love, so even if it's just the two of you and God witnessing the proposal, then it should be the most perfect thing in the world for the both of you.
Do you need more advice on milestones in your life? Then please take a look at our brother talk section.
Staff Writer; Larry Ford