Lil Nas X & Charlie Pride…Sang!
(ThyBlackMan.com)
"Yeah, I'm gonna take my horse to the old town road

I'm gonna ride 'til I can't no more

I'm gonna take my horse to the old town road

I'm gonna ride 'til I can't no more"

Lil Nas X
Introduction
If you're like most people it's hard to get that tune out of head. It's no question that Lil Nas X's smash hit, "Old Town Road", has been a massive success. America is singing this song! Blacks and Whites, young and old; male and female. The single has set a record as the longest-running number 1 hip-hop song in history. Let's unpack this from a historical perspective! Despite its astonishing reception, there's one interesting component—its implications in the face of deeply-rooted racism in the chronicles of mainstream American music.
Because, before this remix with Billy Ray Cyrus, "Old Town Road" first charted on the Billboard Top 100 Country. Oddly enough, Billboard ended up disqualifying the song, claiming that it didn't fit the conventional standards of a country music song. This is when the controversy surrounding the song began.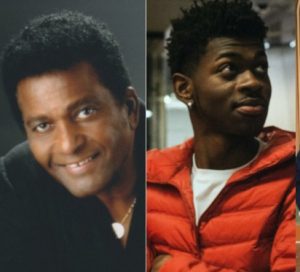 There was a massive outcry from those who questioned Billboard's move, from both celebrities and fans alike. It became clear that Lil Nas X's exclusion from the country chart had struck a nerve.
As Christopher Mosley noted in an article for NBC News, the rapper has clearly been treated differently than white artists like Kacey Musgraves, who has been praised (rather than punished) for her subversion of country music conventions. Mosley notes how Lil Nas X has been treated "as an unwelcome guest" in the genre as a whole.
History repeats itself
Mosley also explains how Lil Nas X's experience of racial discrimination "mirrors a time when influential black artists found it difficult to get airplay on country radio." And one such example is the legendary great and profoundly talented Charley Pride. In 1966 Pride's record label, RCA, released his first single, "The Snakes Crawl at Night," without publicity photos. The label feared programmers, radio station managers, and disc jockeys would not play the music of a Black Country singer, particularly in the South, where only "whites" sang country music. Charley Pride insisted his picture be released; moving forward without fear of non-acceptance as an artist or a Black man; and the rest as they say, is history.
Both of these entertainers, as black men, have weathered racial prejudice during their careers in country music. And while Pride first broke into the genre during the 60s—and not in 2019—the similarities are striking. Despite these shared hardships, both musicians have managed to massively succeed.
An article about Pride by Youth On Race notes that he "had the bad timing of trying to break into the country music business … when Jim Crow laws and customs were still present." This blatant state of racism in the United States made it difficult for Pride to edge his way into the industry.
But that didn't stop him—Pride pushed on, and eventually won a Grammy. Despite continued discrimination, Youth On Race notes: "Talent always wins out, and in 1967, Pride became the first black performer at the Grand Ole Opry in over 40 years." This story is, then, one of widespread success in the face of obvious intolerance and failure to recognize talent with a view to one's color.
"Old Town Road" and its implications today
So, in many ways, Lil Nas X's choice to collaborate with Cyrus on this remix of "Old Town Road" has been a way to push back at the racism inherent in Billboard's exclusion of the original song from their country chart—racism that goes way, way, back, even to the time of Jim Crow. As a teacher of History, this writer has seen how truth prevails when honesty and candor persist.
And yet, in the aforementioned NBC News article, Mosley points out: "…What does it say that Lil Nas X is still expected to show up with a white man in order to be invited to play?" This is an important point to make. Despite Lil Nas X's triumph over discrimination, it's worthwhile to remember that he had to bring in the help of Cyrus to further his fight.
This collaboration, while incredibly smart and effective, shows the sad reality that racism is still alive and well in America, and in its music industry. To his credit; Cyrus had to be brought in to both work against and comply with country music's emphasis on "white's only" perspective regarding its artist. One can say this is unconscious bias from their point of view…ludicrous! And I don't reference the artist here.
Conclusion
Lil Nas X and Charley Pride, though generations apart, share the experience of rejection from the historically-white genre of country music in America. And yet, both artists have demonstrated their strength and talent in their subversive responses to racial discrimination, clearly disproving the idea that country is a white man's genre.
Even though it may appear—on the surface—that we live in a vastly more progressive age, the racist history of America itself is more present than ever (look no further than the election of Donald Trump to see that racism is rampant, albeit more covered up in a veneer of progressivism). In 2019, it's tempting to declare how much progress we've made in terms of racial justice. But Lil Nas X's exclusion from the Billboard Country Charts shows just how evident racism still is.
At the end of the day, though, these are not sad stories. They are stories full of injustice and discrimination, but those struggles have not defined Lil Nas X or Charley Pride In his heyday. Both artists have shown incredible ingenuity and persistence. Both men have managed to carve out a place for themselves within the country music landscape—and have worked to actively change the landscape itself. Both have brought new affiliates and supporters to see and hear history repeat itself.
Both artists are incredibly gifted and talented, and have resisted against the vestiges of prejudice to flourish in their chosen craft.  The powers that be, in the country music industry, have not worn them down. Theirs are stories of success—against all odds.
Now back to the song:
"I.m gonna take my horse to the old town road…..
Staff Writer; Stanley G. Buford
Feel free to connect with this brother via Twitter; Stanley G. and also facebook; http://www.facebook.com/sgbuford.