Children Need Summer Education.
(ThyBlackMan.com) Student all over the country, are fully engaged in summer relaxation. Some are enjoying vacations, sports, outdoor fun, video games, family and other forms of fun. They are loving the school work homework free zone. Summer vacation has changed in many ways. Today there are more options for recreation, and plenty can be done from a phone or tablet. Even with the advancements in technology "summer brain drain" still effects children of all grades every summer. When the fall rolls around again students are still going back to school unprepared for the academic tasks ahead. School supply lists, uniforms, backpacks, and new kicks are just a few things that get tackled in preparation for the new school year while the academic preparedness tends to lag behind.
Teachers still to have to start the school year revisiting the information taught at the end of the previous year; many students have lost at least two months with of academic instruction over the summer. Students tend to lose more as they get older if they are allowed to dodge education over the summer. Granted it's understandable that students, and some parents, feel the students could use a break from academics. However, staying engaged in reading and math doesn't have to be done in a strict format. It can also be argued that many students don't take a break from socialization nor athletics so they can stand to incorporate academics. Below are a few ways to help your child dodge the "summer brain drain".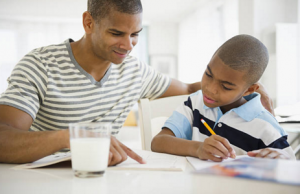 Keep a journal for vacation destinations. As your family travels encourage your children to keep a journal whereby they describe the places they have been, and they can even right about the importance, or historical significance of the places they visit. Encourage them to read different landmarks about the destination so that they can write about it later.
Start a book club for the children in the family, and/or neighborhood. Get young people together in the family and neighborhood to pick books of interest, read them, and have a discussion on them. If you can't get everyone together physically this is where technology helps. They can start a group on Facebook or in GroupMe that's just for their book club discussions. This keeps everyone reading.
Engaging your kids in cooking, starting a lemonade stand, or different building projects can keep them engaged in both math and science during the summer. In this way math isn't a turn off, but they are learning various forms of math while having fun.
Involve your children in summer enrichment camps that include an academic component for reading and math. In some of these camps they are learning directly as they are being prepared for the upcoming year. However, they are also engaged in art, physical education, and they are being allowed to socialize in a healthy environment.
Have times set aside that are "no device" spaces. This is time whereby there are no electronics, but the children are allowed to engage with family, and enjoy reading time without interruption.
If you have children that are doing exceptionally well academically don't take for granted that they don't need to stay sharp over the summer. Various forms of summer education will allow your child the time off they need while keeping them engaged enough to retain what they've learned. Preparedness is a very important part of academic confidence. The child that is behind in school often times doesn't like being in school. Making sure your child stays involved with reading and math will give them the extra confidence they need in the fall as they won't be behind. This is also another way of showing children what they often times learn in athletics…practicing in the off season yields positive results.
Staff Writer; Christian Starr
May connect with this sister over at Facebook; https://www.facebook.com/christian.pierre.9809 and also Twitter; http://twitter.com/MrzZeta.