5 Famous Musician's Natives to Arkansas.
(ThyBlackMan.com) Arkansas State, reputable for its love for lovesome music, recreational lifestyles, and different exciting folk festivals. These festivals allow tourists and natives to enjoy wonderful music and more. Plus, with different music artists, groups, and bands; you get to listen to a variety of music genres. Some of these musicians are from out of state, but a lot of them are local talents.
Also, during and outside of these festivals, Arkansas concerts are organized. Here you are sure to find the best of country music; beautiful strains of jazz; banging rock and roll, and even hip-hop jams.
In true form, the state of Arkansas has also birthed some famous talents in the music industry, outlined below are five (5) of these eminent Arkansans.
5. Al Green
Known for his unique and soulful sound; the famous musical artist, songwriter, and producer, was born Albert Leornes Greene in Forrest City, AR. His musical career started as early at the age of twelve with the band "the Greene brothers" which he formed with his brothers.
Also known as "The Reverend Al Green", he is a soul musician who released epic singles such as "I'm Still in Love with You", "Take Me to the River", and the huge hit song "Let's Stay Together".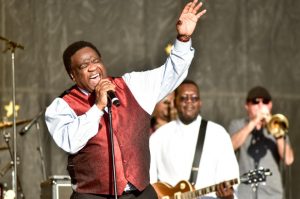 In recognition of his legendary musical prowess, Al has gone on to win several awards. And in 1995, he was inducted into the Rock & Roll Hall of Fame.
4. Pharoah Sanders
Born in 1940 in the town of Little Rock; Farrell " Pharoah" Sanders is one of the best jazz saxophonists in the country. Growing up in the capital city, where both his parents worked, Pharoah was exposed to the jazz sound, which influenced his musical passion.
He came into prominence in the mid-60s when he started playing with John Coltrane's band. Since then, Pharoah has performed at different Jazz festivals and concerts.
With different popular singles and at least one album under his belt, the Jazzist enjoys popularity amongst jazz faithful, even in Japan.
3. Joe Nichols
Joe Nichols, the country music star, was born in Rogers, AR. He started his music career in the Rodeo Band, and they started out playing mostly in small clubs and high school gyms.
He went solo and got contracts with Intersound and Giant labels, after which he made it to the Universal South Records. Joe has released nine impressive studio albums between 1996 to 2017. These albums have carried number one hits like, "Tequila makes her clothes fall off", "Brokenheartsville", "Sunny and 75", etc.
2. Beth Ditto
Mary Beth Patterson is a well-known Indie singer and songwriter. She was born in 1981, in Judsonia, AR. The frontline act for the indie-rock band "Gossip", they droped a lot of radio hits for several years, before she decided to pursue a solo career.
Beth has a powerful voice that has been compared to the likes of Tina Turner and Janis Joplin, and her chosen style produces dance music that is melancholic and soulful.
The famous feminist has won different awards for her songs including the International Artist Of the year by Glamour awards in 2008.
1. Johnny Cash
The Arkansan world-renowned music crooner born in 1932 was a singer, songwriter and guitar player. The sound of Johnny was eclectic, and he has his name on Country, Rock and Roll, blues, folk, and gospel music. Johnny remains one of the highest-selling music artists of all time, with over 90 million sold records to his name.
With wildly popular songs like Folsom Prison Blues, A Boy Named Sue, Ring of Fire, Hurt, etc., Johnny Cash has established himself as one of the great legends of music. The award-winning singer was inducted into the 'Rock & Roll' Hall of Fame class of 1992.
He exited the world in 2003 after battling with a degenerative disease, but the legendary feat of Johnny Cash lives on.
Staff Writer; Paul Brown