Can 'good guy' Calvin Johnson help eliminate the stigma around marijuana use in the NFL?
(ThyBlackMan.com) There are numerous interesting personalities in the NFL. Although quarterbacks like Tom Brady, Aaron Rodgers, and Drew Brees draw the most attention in the NFL, impact players like Marcus Peters, Ndamukong Suh, and Antonio Brown grab headlines for their play and their on-field and off the field personalities as well. In terms of interesting professional sports personalities in team men's sports in North America, the NBA is king with guys like Stephen Curry, LeBron James, Kevin Durant, and Russell Westbrook but the NFL has a strong case for being in second place in front of Major League Baseball and the National Hockey League. Recent NFL retirees like Marshawn Lynch and Rob Gronkowski were major personalities despite wearing NFL helmets and now one of the NFL's best players over the past decade who is also retired is showing a different side of his personality that few people knew about.
It is a pretty chance that former Detroit Lions wide receiver Calvin Johnson will be in the Pro Football Hall of Fame one day. He rewrote the Lions' record books in virtually every area in a relatively short period of time as he retired after "only" nine NFL seasons. During his playing career, he was known for his rare size, athletic ability, and play-making skills and became a beloved figure in Detroit for his production and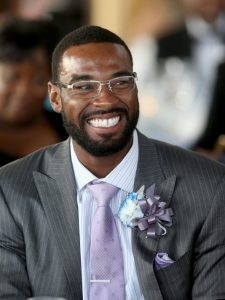 humble demeanor. There hasn't been another player for the Detroit Lions like former running back legend Barry Sanders but in a lot of ways Calvin Johnson was the receiver version of Sanders including being perceived as retiring early by fans and the media. Johnson was known as a quiet personality so it was pretty shocking for many when he participated on the hit television show, Dancing With The Stars, back in 2016, shortly after his retirement. It is a bit more shocking that Johnson has now become a vocal advocate of medical marijuana.
Calvin Johnson's body, like most NFL players, took a major beating during his career but he admitted that the physical toll of participating on Dancing With The Stars, not the NFL, led him to using CBD oil. The pain relief from the oil was helpful for him and assisted him to a third place finish on the television show. He also plans on getting into the marijuana business in Michigan, which legalized recreational marijuana in November of 2018. Because of Johnson's pristine image and record, he might have a chance of changing some minds around marijuana and CBD use in the NFL as NFL players are penalized for using and drug tested for.
The violence and the pain associated with playing in the NFL is a big reason that many former NFL players advocate for using marijuana. Recently retired defensive end Chris Long has been very upfront about how beneficial it can be for NFL players. The NFL is taking steps to evaluate marijuana as a possible pain-management tool as opposed to other painkillers and drugs that can lead to major health issues and potential opioid addiction. Of course, like the NBA, there is a perceived image question for the NFL as a league where a large majority of the best players are black. Old stereotypes about black men and drug use including marijuana can be a challenging fight to white fan bases at times.  Many people are aware that white people use marijuana at roughly the same rates as black people despite the racist stereotypes of black people but image of the black athletes in professional sports is a tightrope that the pro sports leagues have to always face.
Staff Writer; Mark Hines