7 Slick Styling Secrets – For Men of African Descent.
(ThyBlackMan.com) Not everyone can rock a brown suit with golden highlights. But that's okay. Not everyone looks fabulous in the same outfit and the same style. As an African American, I certainly have a different approach to styling than my white friends, because we have to walk a different path to highlight our features.
Different skin, features, and body types need a different way of maintenance. Here are my top 7 secret styling tips as an African American. I hope it will give you some insight on which path to take when it comes to style.
1. Choose the Right Fabrics and Colors to Highlight Your Skin
You have to admit that not all color goes well on everyone. A white man wearing light yellow would look like a banana. But a person with a darker skin complexion would rock the color YELLOW!
You need to figure out the colors that complement your skin the most. Take a complexion meter and find out your skin type. Then choose the clothes and fabrics accordingly. Good colors for black men are usually pale green, bright yellow, cobalt blue, pale maroon and anything with a lighter shade.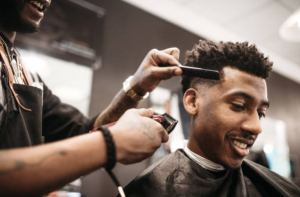 At the same time, you should avoid colors like jet black, brown and other deep colors that blend with your skin. The goal is to highlight your skin and your features.
2. Try Out Different Hair and Facial Hair Combinations
Being of African descent, we have undeniable curly charisma. Our curly and wavy hair makes us stand out in the crowd. You should project your hairstyle to match the type. Experiment with different hair and beard combinations that define your jawline.
If you have medium curly hair but smoother waves, you should try growing your hair. Use the right type of hair products suggested by Faveable.com to keep your hair healthy and shiny.
3. Don't Work on Skin Tone, Work on Skin Texture
Do not be afraid to show your true colors. It's your identity and you should own it with all your heart. Rather than working on changing skin tone, you should invest your time in improving your skin texture. Use masks and scrubs to keep your skin dirt-free and fresh.
Moisturize your skin every now and then with natural moisturizers. Aloe vera, shea butter, and other moisturizing elements can be handy. Your skin should look healthy and radiant at all times. It will help boost your confidence, and you will feel much better in your OWN SKIN.
4. Match Your Hairstyle with the Right Accessories
Do not hesitate to match your hairstyle with the right types of accessories. It's part of our culture to have fun with hair. Don't shy away from this wonderful culture. Play with braids, headbands, knotted hair bands, chips, hair bun rubber, bandanas, wigs and so on.
You have to find the right accessories to highlight your features. There are options out there, so you have room to experiment. Depending on your hair type and size, pick up your favorite one. Try to find an accessory with a blendable color to make it more stylized.
5. Find a Balance of Heritage, Comfort, and Style
Nothing is more attractive than a confident man showcasing his heritage through his style. Our African culture has given us beautiful colors, patterns, symbols, accessories, fabrics and more. You can try to blend these parts of your culture into your style to represent what you are.
You can pick up shirts, t-shirts, suits, caps and other clothing. Make sure that they have a representation of your culture. You can also stylize your own clothes by choosing the materials and getting them tailor-made. Our ancestors passed these things down to us for a reason. They go well with our skin and our features, and you should try to embrace that.
6. Opt for Specially Targeted Toiletries for Personal Care
We men do not like to invest a lot of time picking up toiletries. Hence, we generalize our skin, hair, and faces. But, as a man of color, you should spend more time and attention on picking up the toiletries that work best for you. There are brands that make products according to your skin and hair type.
Get a skin analysis to know more about your skin type. It will help you identify the needed ingredients and elements for your skin. Then, invest more time in picking out the right products by reading the labels. Remember, how well you care for yourself reflects your style sense.
7. Learn to Keep Outfits Fun and Formal
While dealing with the complex matter that is style, a lot of us try to keep it simple. We try to play it safe and thus opt for the most boring outfits in the world. Remember that styling yourself is also about having fun with your look.
Try not to opt for rugged looks with uptight clothes. Keep your style sorted with enough comfort and flexibility. But, at the same time, try to keep your style a bit formal as well. It is all about finding the right balance between being fun and being formal. Pair your boring suit with a fun shirt inside and you will know what I am talking about.
8. Bonus: Work Out for Those Extra Points
Working out not only boosts your confidence but also makes you look more stunning. You can fit into most clothes without any alterations. It gives you a fit outline and features the parts of your body more boldly. Working out is easily one of the best facelifts you can give your body.
Conclusion
Styling for a black man is not very straightforward. Our way of style is more fun, free, bold and comfy. By displaying our culture and heritage, you can elevate our sense of style. A little bit of effort will definitely make a big change in the way you style yourself. I hope this article will be your weapon to start the style mantra.
Have fun with your look and do not be afraid to experiment!
Staff Writer; Fred Hall