Clemson star Christian Wilkins is the 2019 NFL Draft's #BlackBoyJoy.
(ThyBlackMan.com) The phrase "Black Girl Magic" is often used to describe an notable accomplishment, success, or award by a black woman or black girl. There is a phrase related to black men and black boys that falls under the #BlackBoyJoy, which was created by The Root writer Danielle Young in describing hip hop artist Chance The Rapper in 2016. Chance The Rapper retweeted the hashtag and it is now part of popular culture as an unabashed display of happiness and smiling by black men and black boys. It stands in contrast to what many think of football players because of the violent and physical nature of the sport and at the highest levels the intensity and fury of the sport is always mentioned. The 2019 NFL Draft will introduce over 300 new young men into the NFL who hope to have long and successful careers and there is one NFL Draft prospect in particular, Christian Wilkins, who epitomizes #BlackBoyJoy.
The 2018 Clemson football team won the National Championship with a loaded team that dominated its opposition all season long. It even crushed the premier college football program of the last decade, Alabama, during the title game. Although true freshman quarterback Trevor Lawrence got a lot of the credit for the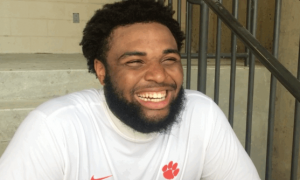 championship, the heart and soul of the team was its absurdly talented defensive line. All four starters of the defensive line are expected to be selected during the 2019 NFL Draft, which is very rare, and three of the four starters will likely be first round picks, which is rare as well. The leader of that defensive line is All-American defensive tackle Christian Wilkins.
As one of the best defensive linemen in Clemson football history, Christian Wilkins is a disruptive force on the football field for opposing offenses and clogs up the middle to do his job effectively. He is considered one of the best prospects at his position and potential first round pick but the surprising thing about Wilkins is that the anger and veracity that many NFL coaches and NFL executives feel that a defensive lineman needs to be successful is not part of Wilkins on the field or off the field. Instead, there is a natural jubilation that Wilkins has in many settings. After Clemson's first National Championship in 2017, he celebrated by doing the splits and he had no problem dancing in public as evidenced during the 2018 Dabo Swinney Ladies Clinic at Clemson.
It is pretty clear that Christian Wilkins isn't shy but he also isn't shy about hitting the books like he hits quarterbacks and running backs. He won The William V. Campbell Trophy®, which could be considered like the "academic" Heisman Trophy, because of his combination of academic success, athletic success, and community leadership and became the first Clemson player ever to win that award. Wilkins was also a National Football Foundation National Scholar-Athlete selection and graduated December 21, 2017 with a degree in communication in only two-and-a-half years while becoming the first scholarship Tiger football player to graduate in two-and-a-half years. There is a lot of intelligence with the exuberance of that large young man.
There are more reasons why Christian Wilkins is the NFL Draft's version of #BlackBoyJoy. He has been a substitute kindergarten teacher during his college career and exudes fun when he started a 'Power Rangers' group with his defensive line teammates. He and his teammates wore costumes based on the 1990s kids' television series on multiple occasions. While society puts black men and black boys into narrow boxes based on stereotypes of anger, violence, and intimidation, it is a breath of fresh air that young men like Christian Wilkins can exhibit their #BlackBoyJoy.
Staff Writer; Mark Hines