Super-Simple Ways to Save on Your Wedding.
(ThyBlackMan.com) Weddings are known to be very expensive…but they don't need to be. There are many ways to reduce the cost of your wedding and save money. Read on for our simple tips for saving on your wedding!
Go for BYO drinks
There's absolutely nothing wrong with hosting a wedding with a BYO drinks note on the invitation. You could write something like "bring a bottle of wine, beer, spirits and/or a mixer to contribute to a cocktail bar". When people arrive, they can drop their drink off to the bar. You can have a designated barman (or two) who are in charge of serving drinks and making cocktails with the ingredients they have at their disposal. This makes for a fun, spontaneous and varied bar menu. If your guests are aware that your wedding budget is very small, they'll be more than happy to bring a small contribution.
Make your own food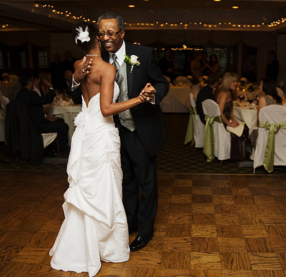 Okay…so this one only applies to people who really like to cook. If cooking relaxes you and you like the idea of creating your own wedding food, then why not? Get together with close friends and family to create a menu, divide up the ingredients, and give everyone a particular task to do. A couple of days before the wedding, get together for a big day of cooking together and catching up before the big day.
Search for cheap wedding dresses
Cheap wedding dresses are easy to find once you know where to look. Most large, international online clothing stores have a dedicated wedding section. There you will find some incredibly high-quality and stylish wedding dresses for a fraction of what you'd pay at a wedding boutique. Find a cheap dress with a flattering cut, order it, and have it altered to your needs once it arrives. No one will know your dress didn't cost you an arm and a leg!
Don't underestimate students
When it comes to photography, bartending, serving and beauty, you can save money by hiring students. Universities, colleges and training institutes have a multitude of students who are keen to practise their skills. Contact your local training schools and offer their students the opportunity to get first-hand experience for a small payment. You will find that students are enthusiastic and very willing to do a great job to prove themselves in the industry. Why not give them a great chance to gain experience, and save some money at the same time?
Practise your own hair and makeup
Professional hair and makeup can really hike up the overall cost of your wedding. If you're already great at doing your own hair and makeup, why pay someone else to do it? Set aside some time to have a play at home to try out a few different makeup looks, and pick the one you love. Make sure you've got a primer, a setting spray and a great loose powder to keep you flawless all day. If you're not as confident with makeup as you'd like to be, now is your time to learn! Practice each day and perfect a simple, easy-to-apply makeup look to do on the big day. And of course, you can always call on your talented friends and family to give you a helping hand.
Conclusion
There are so many ways to save money on your wedding, it just takes a little creativity and DIY enthusiasm. Use your own creative abilities to make your own food and apply your own makeup. The process will likely be very calming, and afterall, you can have complete control if you handle it yourself! Check out the training schools and universities in your town to see if any students are keen for real-life experience, and search the net for cheap wedding dresses. Your wedding will be unique, beautiful, memorable and entirely cost-effective!
Staff Writer; Greg Hall