The 2nd Law of Power.
(ThyBlackMan.com) Robert Greene, the author of the book, The 48 Laws of Power teaches in the 2nd law that one should never put too much trust in friends, but learn how to use our enemies.  In his book, he stated to, "Be wary of friends —— they will betray you more quickly, for they are easily aroused to envy.  They also become spoiled and tyrannical.  But hire a former enemy and he will be more loyal than a friend than a friend, because he has more to prove.  In fact, you have more to fear from friends than from enemies.  If you have no enemies, find a way to make them."
Greene historically describes the tragedy of a young man named Michael III who once became an emperor hired his trusted friend (at least that's what he thought he was doing) Basilius.  Basilius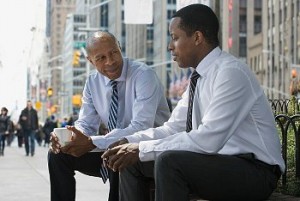 would eventually would not be trusted, was full of pride and so forth which became the demise (murder) of Michael III.  How many times are we reminded in business, never to hire our friends.  It has been proven through this historical moment and even in our modern day society.  We've seen this happen in the hip hop culture: 2Pac and Biggie Smalls or Jay Z and Damon Dash.  Friends who hired friends and now hip hop hasn't been the same ever since.
It is our human nature to want to take care of our friends if we are advanced in life or placed in a position to "put them on."  What eventually happens is, the friend you hire is too close to being privy to your ways of doing things, and start thinking that they can do it better than you, which creates the plot to get rid of you, by any means necessary.  Or the friend doesn't respect your authority in the business setting because you haven't established the boundaries needed to separate the friendship from the business.  The friend believes they can slack off on their duties assigned because they're your bff or they do try to do mediocre work because they don't see share the responsibilities as your other staff or colleagues.
Now consider that one person who you stayed in conflict with, what if you two worked together instead?  This is where the magic happens.  Think about the G.O.A.T. Michael Jordan and Isaiah Thomas.  Two "enemies" who share the same passion for the game of basketball.  If they would've been on the same team, think about how many championships they could've won together.  Need more proof of this analogy?  Look at Former President Barack Obama and Senator Hillary Clinton presidential campaigns.  Once "enemies" to each other created a powerhouse administration after Obama won the presidential election and hired Clinton to join his administration.
Working with your enemy can produce better results and partnerships than taking the easy way and hiring a friend.  We know tons of people who start off as business partners but eventually go their separate ways because their friendships have suffered throughout the business.  There are also tons of success stories from successful business owners who hired their friends, but those stories are few.  No one really knows a person or their truest intentions.  But working together often shows people's their truest nature.  If you can, don't hire your friend if you value that friendship, but hire your "enemy" to help destroy your competitor.
Staff Writer; Felicia T. Simpson
One may also connect with this sister online over at; FTSimpson.com.