Kevin Durant is good for the Warriors and should stay there.
(ThyBlackMan.com) The Kevin Durant experiment is currently in its third year in the Bay Area, and the results have been what the Golden State Warriors expected when they signed him in July of 2016. The addition of Durant would grant the Warriors another supreme scorer, which in turn earned them two more NBA titles for the franchise. But many have questioned whether Durant has reached the apex of his time in Golden State. Granted, Durant has accomplished everything he wanted to achieve with the Warriors. NBA titles? He has two. Finals MVP's? He has two apiece as well. He came here with intentions of winning and he accomplished that. So, taking everything into account, would Durant benefit from striking out on his own?
In theory, Durant making a lateral move to another franchise would make sense for the 30-year-old superstar. With Steph Curry, Klay Thompson, and Draymond Green, he doesn't have to generate the effort that, say, a LeBron James would have to as the center of the team's offense. With that said, it's possible that Durant would consider leaving the Warriors to become the center of a franchise. Durant could transform any team to playoff contention with his skill level alone. At Golden State, he can suffer a bad night shooting but it wouldn't hurt the team as much due to their talent.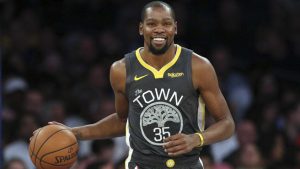 But it's the way the Warriors play that would grant Durant the opportunity to win more championships down the line. Warriors coach Steve Kerr's Modus Operandi centers on three-point shooting, ball movement, and pacing the floor. Under Kerr's direction, Durant is averaging 27 points, 7.6 rebounds, and 5.4 assists. He is also shooting 52.1% from the floor and 37.3% from three-point range.
Durant put up similar numbers during his duration in Oklahoma City, establishing himself as one of the leagues best scorers. But the difference between his time in Oklahoma City and his current time with Golden State is the Warriors system has translated to championships for Durant. In Oklahoma City, the ambiguity between him and Russell Westbrook led disappointing playoff exits. If championships matter to Durant, then the Warriors can help him reach more in that regard.
Of course, the general consensus of NBA fans doesn't want this train to continue moving. Durant signing to Golden State was viewed as a weak move by a superstar player. NBA fans openly questioned Durant's true commitment to winning, and many still believe he doesn't want to work hard to win championships. To them, Durant took the road you never travel: joining a super team as a superstar.
But if Durant elects to stay with the Warriors, does it truly show a sign of weakness? Or, is it that Durant recognizes his skillset fits the Warriors basketball philosophy? With Kerr, Durant has flourished and his contributions have transformed the Warriors into one of the NBA's greatest teams. It's easy to follow the traditional mindset of winning championships as the alpha dog. But Durant is in rare air; he has the coach and scheme to support his talent. Sometimes the grass is greener right where you stand.
Thankfully, the free agency period is eight months away and Durant has plenty of time to make a decision. Yes, Durant can easily go to the New York Knicks and become entrenched with the trappings of a superstar there. But where he's at, he can rack up on NBA titles and MVPs. The unquestioned leader on an NBA team is a dime a dozen. But very few of those leaders are in the championship family-yet alone with multiple rings. So, if Durant wants more championships, the Warriors can offer a simple remedy for that problem.
Music Editor; Brad Washington
Also connect with this brother through Twitter; http://twitter.com/theGURO15.