Why Your Small Business Must Always Monitor Online Reviews And Check People Who Write Them.
(ThyBlackMan.com) As a small business you really are like a small fish in a huge ocean and you must avoid a great many obstacles which have the ability to swallow you whole. It is exactly for this reason that so many new companies fail to make it past the 3 year mark, especially worrying when you consider that most companies won't make a profit until years 4 or 5. One such aspect of owning a small business which we are going to look at today is the reviews which you receive online, and why it is so important that you check people who are leaving them.
Word of Mouth
Word of mouth has always been one of the most efficient marketing tools out there, and thanks to the rise of the internet, this is still the case, albeit with a slightly different approach. Online reviews are the new word of mouth that many people rely on to give them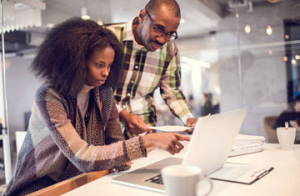 recommendations to use particular services or products and even if your business doesn't operate online, you can be sure that people are still talking about you. The Better Business Bureau or BBB even cites online reviews as one of the most common ways in which consumers are finding new businesses and services which they use, this is why you must pay close attention to what is being said.
Easy Negativity
You shouldn't just look upon a negative review as something which can damage your business but instead something which can actually help your business. Instead of looking upon a negative review as damage, why not instead view it as worthy feedback which can help you to improve. The most important reason why you should be active on these review sites is so that you can directly interact with a consumer, and help them rectify the issue. For example if you give a disgruntled customer a refund after an issue, you will be able to help them with the problem but also be seen to be actively helpful when someone has an issue, crucial to gaining customer trust.
Avoiding Spam
Unfortunately it can be very easy for you to leave a review about a product or service, whether you have actually used it or not. This can lend itself to people trying scam others into thinking that your business has flaws which it doesn't, and often we see competitors or disgruntled employees voicing negative opinions simply to cause a mistrust towards your company. A poor review on a site like Google for example will be seen by thousands of pairs of eyes and if you are not monitoring the reviews and responding with value, you may be doing all kinds of damage to the reputation of your company.
Make sure that at least once per week you are checking all of the reviews online that are being left by you customers.
Staff Writer; Ron Hall