Dressing for Your Skin Tone.
(ThyBlackMan.com) Color plays what is arguably the biggest role in determining the overall look of your outfit. As someone with darker skin, you're blessed with the ability to pull off a wider variety of colors and textures with the clothes you wear. This also applies to accessories. In this post, we'll look at all the ways you can dress for your skin tone and look your best.
Truth be told, there are virtually no colors that you can't pull off if you have darker skin. This gives you an unrivaled amount of freedom, allowing you to focus more on silhouettes and textures instead of having to put all your focus on getting the colors right.
Which Colors Work the Best?
It's difficult to single out specific colors when virtually everything works – but there are certain colors that work exceptionally well.  To make things easier, we've listed all the trending colors instead. This way, whatever you choose is set to work in more ways than one.
Desert Tones
Looking at Kanye West's popular Yeezy line of clothing, you'll notice that desert tones make a great contrast against dark skin – this is one of the reasons Kanye almost always opts for darker skinned models for his shows.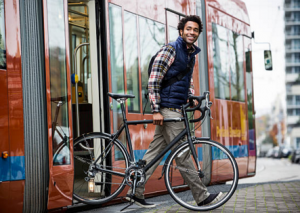 Lighter tones such as beige and khaki not only look great, but are also at peak popularity at the moment. Because of this, virtually every brand and retailer sell their own collection of Yeezy-inspired pieces, often at much lower price points. You could easily build a whole wardrobe from these tonal ensembles alone.
Blue
The majority of fashion blogs agree that blue is one of, if not the best color for dark skin. Even shades that move more towards navy look exceptionally great and stand out better than most colors. This is especially true for tops. A blue sweater, button-up or even a bomber jacket over a white shirt looks great.
Monochrome
Nothing makes your blue top stand out even more than a pair of monochrome trousers. Opt for light grey if you plan on achieving a more formal look. For a more streetwear-esque ensemble, pick up a pair of black or white jeans. Speaking of monochrome, you can even ditch the blue and go all-black or all-white.
Either option looks amazing on dark skin and allows you to focus more on silhouette and texture. Think denim jacket with a longline tee and a pair of ripped jeans over your best pair of Air Force 1's. All in white, of course. Alternatively, opt for the all-black look with an extended cardigan, basic tee and a pair of black zipper jeans over some Chelsea boots.
Colors to Avoid
While we say anything works, there are certain colors that are best left untouched. Certain colors will leave your skin looking washed out or otherwise too blended in. Shades of dark brown and green are barely worn by anyone for a reason.
More vibrant shades of green, on the other hand, can look great. And by playing with texture, you can still wear darker tones. This is evident with camo-print clothing such as a camo bomber. Just don't take it too far – you don't want to look like a duck hunter.
Mixing Colors
Because you look great in virtually any color, you have much more freedom to mix and combine different tones. Don't be afraid to think outside the box and combine different color pieces together. Whether it be safer options like red and white or more experimental streetwear-esque combinations of purple and yellow or pink and blue, go as wild as you like.
Lighter skin usually benefits more from the pale tones found in light wash jeans and faded tops. Darker skin looks better against muted tones such as light grey and beige. This brings us back to Kanye's style. It should be clear by now – the man knows how to dress!
Silhouette
Lastly, there's silhouette. Because you don't have to worry so much about color, you're free to experiment in other departments. Looking at modern high fashion trends, you'll notice that most people are leaning towards oversized tops and bottoms against slimmer fitting pieces around the legs.
French high fashion brand Balenciaga is arguably responsible for this. If you want to add a luxury product to your wardrobe, a popular choice is the Balenciaga hoodie, along with the absurd "Triple Sole" sneakers. Other brands such as Vetements and Yeezy are also in on the trend. Don't be afraid to try something new and find the sizing combination that complements you best.
If we had to sum it up, it would go a little like this: Avoid colors that resemble your skin tone too much and enjoy being able to wear virtually everything and anything else. Gold chain? Have at it. Blue sweater? You'll look amazing. Full desert-tone fit? Perfect. Embrace your natural appearance and wear your clothing proudly knowing that you look your best no matter what.
Staff Writer; James Parker