Space Force Must be a Joke.
(ThyBlackMan.com) I've seen quite few things in this lifetime that give me pause for concern. The current administration is a disaster and embarrassment beyond anything I've ever seen. It seems in an effort to be different from their predecessors they are more of the same in the worst way. This administration clearly doesn't care about Americans, and the there is a drastic need for domestic policy that will meet the needs of the everyday Americans verses benefiting the 1%.
If that wasn't bad enough our position in the global community has been eroding at a rapid rate by a President that doesn't understand he is NOT the boss, nor is this reality TV. While the country is in an uproar over immigration, and children being separated from their parents, while the US is withdrawing from the UN Human Rights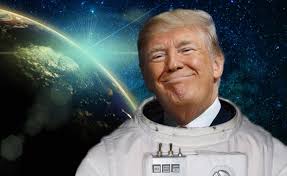 Council, this President has the never to want to roll out a plan for a "Space Force".
I have to admit I thought I heard him wrong…then I found myself waiting for the punchline. Liken to the Air Force he wants a Space Force that will be "separate but equal". Why do we need to police space when we can't get our own country together? Does he plan on moving to Mars anytime soon? I know the sarcasm is real but given all the real issues we are facing at this moment, some which are of his making, how could anyone take this President serious? This is not Starship Troopers Mr. President. He wants a wall, and a Space Force. Well, Americans to be able to feed their children, not have their healthcare threatened, feel safe on American soil, better education, and above all for the President to actually take his job seriously.
Maybe he doesn't realize the idea of something as far fetched as a Space Force is a slap in the face when there are children being detained in cages on his watch. We could care less about space when the Attorney General of the US is clearly a racist that is using his position to terrorize people. Sometimes one can wonder if he really knows the state of the country his leads. Get out the White House, and out of resorts and open your eyes to what is happening to the people in your country on a daily basis.
Before you consider a Space Force could we make sure our current branches have everything they need. Can we invest substantial money into taking care of the men and women that serve this country once they return home? I admit that I laugh to keep from breaking something. I know my father always said nothing could surprise him anymore, but if he were alive I really believe he would have to reconsider that position. It is detrimental when you live in a place where by you see your government turned into a circus. Yes, there has always been corruption and self-serving policies, but what we are seeing now is unbelievable.
Staff Writer; Christian Starr
May connect with this sister over at Facebook; https://www.facebook.com/christian.pierre.9809 and also Twitter; http://twitter.com/MrzZeta.