I'm Not Mad LeBron James Left Cleveland.
(ThyBlackMan.com) There is so much going on in the world and in the mist of all of it the news was release that LeBron James was indeed going to the Los Angeles Lakers. In that moment social media became a live wire, and very few seemed to understand why he left. Cleveland fans might feel betrayed while Laker fans are not amused at all. While the world is being turned on its side we must take a moment to talk about this move. I may not be as big of a basketball fan as some that are having major issues with this, but I do love the game, and I watched the playoffs.
Whether you love or hate Lebron its time to be honest about what we watched happen with the Cleveland Cavaliers during these playoffs. It seems that many that claim to understand basketball don't seem to have been watching the same games I watched. Honestly, I think I would have lost respect for Lebron James if he would have stayed in Cleveland. I could have cared less where he went but he had to go, and I'm glad he's packing his bags.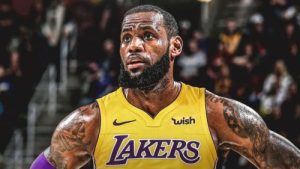 There are many different reasons people find to hate on LeBron James. At this point to berate the man is truly hating. He has been giving and is still taking a serious care for his community. Furthermore, it can be argued that he is the best all around player in the game at this moment. We know Cleveland is going to remove his face from everything, Chicago didn't act this ugly when Jordan left, but they need to tell the truth about why he's gone. His team failed him.
In all my years of watching the NBA Playoffs I have never seen a player so embarrassed by the sheer lack of tenacity their own teammates. It could be argued, after watching the regular season, that the Cavs had no business in the playoffs. LeBron put his team on his back, literally, and carried them from questionable to the NBA Finals. Once they got there is was as if his team lost their understanding of basic basketball. The Cavs didn't have to get swept! Lebron worked his butt off for his team to have a fighting chance and the time literally left him hanging.
The last time I felt a player was left on his own was Allen Iverson when the 76ers faces the Lakers in the Finals and it was as if the rest of the 76ers were watching Allen Iverson verses playing with him to try and win a championship. Well, this situation with the Cavs looked worse. Lebron James left his heart on the floor and his team crushed it…that had to have done something to him on the inside. He took a team no one would have given a chance, and once again proved his naysayers wrong. I don't care if its considered holding a grudge if I were LeBron I would be leaving too. I respect this man as a person and a basketball player. I hope he has a better cast in Los Angeles…one that will appreciate what he brings to a team. Cleveland deserved to lose their star.
Staff Writer; Chelle' St James
May also connect with this sister via Twitter; ChelleStJames.