Smart Sneakers vs Fitness Bands: What's the Difference?
(ThyBlackMan.com) It's no surprise that the battle of smart sneakers vs fitness bands is getting hotter than ever. Many people haven't even tried wrist-bound fitness bands, smart sneakers are already here. From Fitbit to Garmin, many brands are bringing smart wearable devices. There's a wide range of activity-tracking options to keep an eye on fitness data. But smart sneaker brands are betting that runners can get data from their shoes. Let's have a look at how these two smart companions can help people. What's the difference in their technologies and what capabilities they have?
In the 21st century, a large number of industries have turned to technology to stand out. Brands have found many ways to attract new customers. From customization to smart activity tracking, companies are leaving no stone unturned.
Smart Sneakers vs Fitness Bands: Features
Smart sneakers became popular when brands including Nike and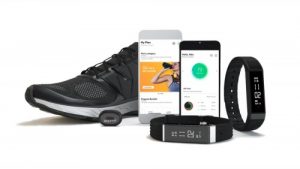 Adidas started putting chips in shoes. Smart shoes started attracting athletes, runners, football and golf players. With all kind of stats such as running speed, walking speed, impact on sole, balance, weight shift, calories etc. people get personalized guidance and coaching on smart sneakers.
Most of the smart sneakers available in the market today need smartphone pairing. With the help of Bluetooth, you can connect footwear to your smartphone. You need to download an app to receive tracking data on your mobile phone. Products from Digisole and Under Armour offer fitness tracking and auto tightening features. No matter how advanced shoes have become, the core experience appears feels limited.
If you are a runner or someone who is more into football, or other sports, you can pick a pair of smart sneakers. But there are limitations with regard to the data you get from these wearables. You can't always use them unless the same technology is available on your everyday sneakers.
Companies design running shoes and football shoes for a specific audience. Fitness bands, on the other side, provide a lot of information related to your fitness level. Most importantly you can use wrist-bound fitness bands throughout the day and night. This is one of the areas where smart sneakers fail to justify their need in an average person's life.
For example, some smart sneakers track how much you have walked. This data is useful only if you're tracking it daily with some certain goals. Calculating steps is pointless unless you are a professional runner or an athlete. It is useful for those who track daily stats or have a specific goal.
You're not going to wear the same shoes everywhere so the data will always remain incomplete. You can wear a fitness band anytime, whether it's on your wrist, neck or anywhere on your body. Even a very basic fitness band can count your steps that too with accuracy.
Additionally, fitness bands these days are getting smarter. You can not only count steps, but some fitness bands can track your heart rate as well. Some more advanced trackers can provide swimming data and insights about your sleep. Smart watches like Fitbit Versa now offer female health features. Women track menstruation cycle and so much more with the help of such features.
Smart Sneakers vs Fitness Bands: What to expect
The scalability of smart sneaker looks inclined towards gimmicks. We have seen products like Shiftwear that focus on customization from smartphones. A pair of shoes from Shiftwear features a display and self-charging capabilities. We have seen "smart shoes" made of recycled material. Companies like Vivobarefoot and Adidas have sold them, but that's not the point here. So if we look at the smart sneakers vs fitness bands battle, smart sneakers are not smart enough.
Smart Sneakers vs Fitness Bands: The difference
Fitness bands and smart sneakers are two different products. They belong to different industries, but if you can only pick one, it's important to focus on what your actual need is. A fitness band can give you a lot of information about your fitness levels. But the usefulness of data depends on what you are trying to achieve and what your fitness goals are.
If you're thinking of buying a fitness band, focus on how you're going to use it. Maybe you want it to check how much you walk, but don't need swimming or heart rate monitoring. If the core purpose of buying a smart wearable is running, a fitness band may not be suitable for you. It may not offer the data you should be focusing on. You need smart sneakers for detailed running metrics.
If you compare the Mi Band and Mi Smart Shoes, you will see that these products are different in the way they work. They use the same Mi-Fit App for data sync. On the Mi Band, you will notice that it can easily calculate your steps and sleep data. For other activities, you will have to manually start and stop tracking on the Mi Band. This is not the case with the company's smart shoes. Mi Shoes can identify when you're walking, running and climbing. You will be able to see the catalog of your workout on the Mi-Fit app.
Smart sneakers and fitness bands can supplement each other. The scope for further growth is bigger in fitness bands technology. Smartwatches are making fitness trackers smarter than before. We can't expect the same from smart sneakers. Shoemakers can only focus on customization, comfort and improved tracking abilities.
Staff Writer; Corey Shaw
Have any Tech Tips? News? Hit up our Tech Guru at; CoreyS@ThyBlackMan.com