Five Life-Altering Affirmations.
(ThyBlackMan.com) To 'affirm' is to declare it so; it is a positive declaration that validates what we believe to be true. In short, an affirmation is our truth. It cannot fail, it cannot be untrue, and there is no element of capriciousness to it. We believe it with every ounce of energy within.
Each day we live we are presented with a deluge of opportunities which can make us or break us. We must deal with negative co-workers, grouchy bosses; we begin our day at times with uncooperative spouses; sometimes our money is funny and our change is strange.
How do we discover a point in the course of our day that radically re-alters its direction? By memorizing and repeating affirmations!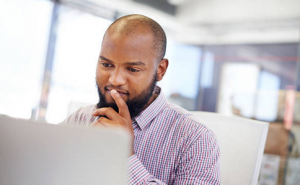 We have the power to reshape our thinking, to redirect our energy and refocus our thoughts.
Affirmations can do that; they are short, powerful testimonials of what we believe to be true – even though circumstances may betray that!
Here are five such affirmations.
I RELEASE negative emotions, people and attitudes and RESTORE peace, harmony and goodwill into my experience.
What we walk around with through life determines, to a very great extent, the quality of our lives. Holding grudges, not forgiving others and allowing anger to rule us wreak negative consequences for our body, mind and spirit. Think about it. Most of what happens to us involves people, people who have harmed us in some way. Today let it go and move forward.
I will emerge from this period in my life and move into my future whole, perfect, strong, powerful, loving, harmonious and happy.
How does one person emerge from adversity with a positive attitude while someone from a similar set of circumstances do so with the opposite results?
It's the ability to let go of the past and move forward. We have been, after all, divinely wired for only one direction in life: to move ahead. No person has ever been created to live in the past. It's what's in front of us rather than behind us that matters.
Peace, harmony and goodwill are at the core of my existence.
Truth be told, we can emerge from any circumstances if we consciously follow this mental rule: stand tall. stand strong. stand out. This is the formula for success and its lack is the formula for failure.
This formula will work for you and it will work for others, as well. For, as we desire our own goodwill, we desire the goodwill of those who surround us.
I am standing tall and straight and walking into the fullness of my destiny.
When your back is bent, people will ride it. When you erect your posture, though, no person can bring you down. You will walk into your destiny with unbridled confidence! What you emerge from does not have to cause you to become bitter. The desire to become better is our birthright.
My body is strong! My mind is strong! My spirit is strong!
Our body, mind and spirit are not disconnected entities; we are a complete whole. I am strong and vibrant and my mind and body are in perfect harmony. This is called the 'mind-body' connection.
Harmony is what dictates our experiences. Lack of harmony is the cause of bodily and mental disease. Be careful of what you say, your body is always listening.
We have the power to reshape our thinking, to redirect our energy and refocus our thoughts.
Staff Writer; W. Eric Croomes
This talented brother is a holistic lifestyle exercise expert and founder and executive coach of Infinite Strategies LLC, a multi-level coaching firm that develops and executes strategies for fitness training, youth achievement and lifestyle management. Eric is an author, fitness professional, holistic life coach and motivational speaker.
In October 2015, Eric released Life's A Gym: Seven Fitness Principles to Get the Best of Both, which shows readers how to use exercise to attract a feeling of wellness, success and freedom (Infinite Strategies Coaching LLC, 2015) – http://www.infinitestrategiescoaching.com.