Famous Senegalese American rapper Akon addressed in Addis Abeba to African Union Commission Talks Program.
(ThyBlackMan.com) Last month, in March 2018, 1ST, the superstar musician, songwriter, businessman, record producer and actor of Senegalese descent Akon was officially invited in the Ethiopian capital as the guest of the monthly talks series program of the African which receives monthly an African personality for debates. Alioume Damala Badara Thiam Akon, celebrated worldwide for his 40,000,000 albums sold, 5 Grammy Awards won has addressed by night during 1 hour and 14 mn on the theme "African Youth and Challenges in Migration" at the African Union Headquarters. Akon was welcomed at his arrival with his one of his five wifes, Ethiopian fashion designer Nigussie Rozina at the Bole International Airport Addis Ababa by government officials, top management from the African Union and renowned Ethiopian entertainment personalities at the VIP Salon of Bole International Airport.
Akon was starting a five-day visited to Ethiopia. He was so excited to take part in Gondar, Amhara Regional State to the 122nd commemoration of the Victory of Adwoa, a historical prestigious event of Ethiopian Army beating Italian colonialist imperialist army war. Akon has been selected to deliver a speech in this pan African institution for his remarkable involvement in the African continent development these 5 last years. Far from show-business stages,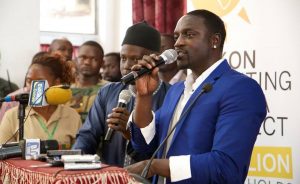 Akon has launched a major solar energy program for the African continent to provide light for 600,000,000 African in rural areas to make it possible for village schools pupils to have access to light to learn their lessons at home in the evening, to bring electricity for theses rural areas sanitary units. It's the "AkonLighteningAfrica" Initiative ruled by Solektra International.
From 2014 to 2020, the singer's plan is to connect to the solar energy network many millions families. The project will cost a $billion. 100,000 street lamps and 102,000 domestic lamps powered by photovoltaic panels have already been installed in 480 localities and 14 countries on the continent. He created in Bamako an institute to train 500 African engineers in solar energy system engineering.
Eventually, Akon is also dreaming to connect the water distribution system and the energy supply of public buildings to the solar grid.That really is not just a star mania ego-tripping: in two years, Akon could create 5500 indirect jobs, more for Africa than all NGOs in thirty years. In higher considering for his achievements, the January 2016 Powering Africa Summit in Washington DC invited Akon as well as many head of states on a panel focussing on how to finance access to renewables in Africa.
Solektra International LLC is Akon's company located housed on the 66th floor of the famous Empire State Building New York, founded with young successful Senegalese businessmen Samba Bathily and Thione Niang. Akon next challenge is to introduce his company in the Wall Street stock exchange. The company would finance new intercontinental projects on the African continent. Akon announced a great project in Brazil, in China, and in the Usa. He could start his business with a $1 billion loan from Ecobank and a Chinese corporation China Jiangsu International Group. At this day, Solektra International could sign approximatively 400 $million transactions.
Akon is developing partnership with African banks and governments for solar energy initiatives, mainly solar panels from Chinese manufacturing. To make it a reality, Akon and his partners are trying to raise funds in capital markets. They are negotiating with a French bank a loan. Solektra fund is building a solar lamp unit in Mali. Produced in partnership with the French operator Sunna Design, the plant has required a $ 2 million investment, is completed but not yet in service. In 2017, Akon has introduced in Gambia solar project with pilot phase benefiting 4,000 villagers. About half of the world's 1.2 billion people without access to electricity live in sub- . The progresses and innovations in renewable energy drop the price of its technologies. Thus, day by day, Africans choose more and more solar panels, instead of diesel generators to produce their electricity.
Akon is regularly asked if he is interested by Senegal presidency. He responds in these words:
"I get asked that question all the time,I have no interest to be in politics in Senegal. If I run, it will be in the United States, perhaps run for president of the US where I can make the most for the (African) continent."
Source; http://www.akonlighteningafrica.com
Staff Writer; Abu-Jahlil Astrid Chacha
One may also connect with this brother on Facebook; Segla A.