NBA Newsflash: The Greek Freak is a Beast!
(ThyBlackMan.com) Lights, Camera, Action! Kudos to Giannis Antetokounmpo (pronounced an-tet-o-KOON-bo), his surname meaning: "The king/crown/royalty from a foreign land". He is more affectionately known by his teammates as "The Greek Freak" although he might be the center of attention whenever he returns to his Native Greece, the Milwaukee Bucks forward prefers the simple life which connects with his most humble beginnings.
Giannis, the son of Nigerian Immigrants was born in Greece and despite the struggles the family faced, The Greek Freak was always happy. Giannis was drafted 15th in the 2013 NBA Draft by the Milwaukee Bucks from relative obscurity in his mother country where he played for Filathlitikos; a Greek professional basketball club that is based in Zografou, Athens,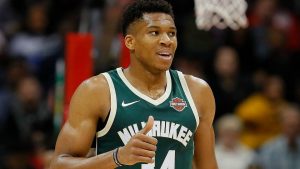 Greece. The club's claim to fame now rest with its most popular alumna the "Greek Freak!" The team is mostly known for being the first club that Giannis Antetokounmpo played for, prior to his being drafted in the 2013 NBA draft. Giannis didn't have a suit to wear for the occasion having bought one on the spur of the moment at the insistence of his family.
Unassuming Upbringing
Rejoice NBA! The 6-foot 11 inches; 23-year-old player is the star attraction on the Bucks team impressing each night on the court with a dazzling array of acumen and ball skill surprising even himself; as he is driven to a life of excellence on and off the court. Antetokounmpo's parents arrived in Greece in 1991 and settled in Sepolia, a no-frills neighbourhood about two miles north of the Acropolis. They were the only black family for blocks. His mother Veronica earned money baby-sitting, and father Charles was a handyman for an electrical company. Giannis was born in Greece in 1994 these Nigerian parents who ventured into Europe in search of a better life.
Immigrants in Greece, predominantly dark-skinned ones, have been targets of exploitation in recent years by far-right nationalists uncomfortable with the country's economic problems. The Greek Freak along with his parents and siblings had no papers and grew up in a poor state of affairs where sometimes they had no food or basic provisions. However, he and his family were content, all things considered; despite the challenges they faced in a demanding society. Giannis speaks Greek fluently. He completed Greek schooling and adjusted quickly to a new way of living.
Growing up in Athens he and his siblings; as well as many other African immigrants would sell items on the streets of Greece to earn a little extra cash. Giannis considered himself the best salesman because in his own words: "I never felt like giving up". Items he sold included DVDs, CDs, watches, glasses and bags. Many immigrants just like Giannis' parents found it hard to get jobs in the country of Greece, so he and his siblings did what they could to help defray the impoverished family's living expenses. "Sometimes, our fridge was empty," said Giannis, "Some days, we didn't sell the stuff and we didn't have money to feed ourselves." The good days brought "just enough," he recollected, to make the rent, pay a water or electric bill, or buy food.
Strong Will and Determination
Giannis was always a tall kid, sometimes bearing the brunt of name calling by his idolizing peers. It was sheer providence, talent and a supportive father who asked him, at a young age, "why not play basketball?" Giannis and his brothers would play on the streets of Athens before he got a chance to play for Filathlitikos in the Greek second division. The lanky Antetokounmpo was never the best in the division but many saw that he was a kid with determination, skill and great potential.
Despite being actually born in Greece, Giannis was never considered a Greek by his countrymen and never received his full Greek citizenship until 2013, a month before the NBA draft. Despite the reluctance of the Greek government to extend his family outright residency early on; Giannis considers himself now a proud Greek despite his family looking over their shoulders during their difficult times in the countryside of Athens.
Product of Sports Family
Coming from a sports family, where his father was a soccer player and his mother a high jumper, it was always a foregone conclusion that Giannis would be destined for greatness. Yet, through his rise from Athens, Greece to the glitz and glamour of the National Basketball Association (NBA) he has remained humbled in his quest for an unpretentious life as a by-product of disinclined success. For Giannis, failure is not an option and he continues to work hard at his craft, in the shadow of his American sports idols, Michael Jordan and Kobe Bryant; to be the best that he can be on and off the court.
Giannis has grown on the hearts of his fans, teammates and commentators all across the globe and due to the complexity of his last name, Antetokounmpo, he has gained a few nicknames to go along with Greek Freak such as Alphabet Soup, and Zi Mu Ge, or "Better Bro" translated in China.
The kid from Greece who distinguished himself as a salesman in the streets continues to play to sell-out crowds in the National Basketball Association as Greeks living in the United States cram into NBA stadiums all across the country to see Giannis who has become a beacon of light and hope for his supporters and family.
Looking to the Future!
His infectious smile and personality coupled with his drive to succeed will only continue to inspire those around him. Sports prognosticators say the Milwaukee Bucks with his talent, are destined for an NBA Championship in the not so distant future. Universally, for the Greek Freak, Giannis Antetokounmpo, the best is yet to come! As a writer with humble beginnings myself, and a love for Sports; I am deeply moved by Giannis' personal story. I have spoken to youth groups across the nation, comprised of well-meaning yet, misguided ambitious boys without the drive; stuck on the dangerous idea of seeing the NBA as a ticket out of poverty. The "Greek Freak" is the exception that proves this rule! Hard work and ambition will get you everywhere but you must follow Gods plan for your life. What a wonderful global story of rags to riches to show the youth of today, reminiscent of the truth in an "old school" song made popular by Sly and the Family Stone: "You can make it if you try!"
Staff Writer; Stanley G. Buford
Feel free to connect with this brother via Twitter; Stanley G. and alsofacebook; http://www.facebook.com/sgbuford.