4 Steps to Better Your Life.
(ThyBlackMan.com) Life can be an unyielding monster at times. Everyone is looking for a better way to deal with it, or a way to walk in balance regardless of such. At a certain point we realize life doesn't have to be a monster. It can be what we desire it to be, but that starts with self. Even with that knowledge it's always helpful to have a few things we can do to make our life more productive, and peaceful. Gaining a better sense of control over our life helps build our self-confidence, and manage various situations better. Regardless of the challenges life can present there four steps you can take to keep yourself balance in the mist of chaos.
1. Embrace the art of meditation. When life decided to go left you need to be able to cultivate peace within yourself. Explore various methods of meditations that involve calming breathing techniques that feel natural to you. Mediation allows you to have a set time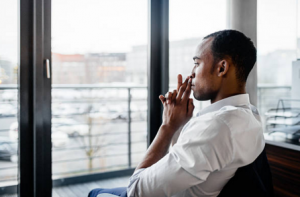 whereby you are outside of the madness of life. It's like quietly putting yourself in a serene environment and focusing on your wellness and balance. Meditation can go with you no matter where you are, and it can be tailored to your current environment. Seek out, and practice, meditation.
2. Avoid drama and negativity. Yes, situations arise. Negativity is a part of life, but you determine how much of it will reside with you. Drama is a definitely a door that leads to an entire wing in the house of negativity. Try to avoid, as best as possible, situations and people that are addicted to the pain of negativity and drama. You don't want to find your energy on empty because you have poured it all into negative people that don't use that energy to perpetuate positivity, nor do they pour positivity into you.
3. It is important that you eat well. Comfort food may have a place in your life, and we all succumb to it every now and then. However, for the most part you want to eat to make sure your body has what it needs to match your positive energy. Sometimes it is as simple as getting up a bit earlier to ensure you eat breakfast. Strengthening the mind is great, but its hard to stay focused when the body cannot follow because it's not properly nourished. Drink plenty of water, and don't forget to eat.
4. Don't forget to exercise. Granted this is another way to keep the body in good running condition. However, exercise is also a way to burn off the steam of frustration, bad energy, or simply a bad day. This is one by which you are turning negative energy into positivity for you mind and body. We know the benefits of working out for our physical health, but it can keep our mind clear and assist with the ability to focus.
Life has a way of presenting situations far beyond your control. However, it is important to have a few things that you commit to your daily routine that allow you to stay in control of your person. Having a better life starts with doing all that you can to stay healthy, peaceful, and focused. These few things allow you to remain in the drivers' seat of your life.
Staff Writer; Christian Starr
May connect with this sister over at Facebook; https://www.facebook.com/christian.pierre.9809 and also Twitter; http://twitter.com/MrzZeta.