The Top Five Positives a Child Should See in Their Dad.
(ThyBlackMan.com) Let's face it. These days, children see a disparate number of attributes associated with males and by extension a dad. Some of it is not so good; most of what they see (including on media, television etc.) is bad.
It is relatively easy for a child to become confused about what a dad should look like, act like, think like and live like.
We are all essentially products of the dad we either loved or loathed. Either way, whether we like it or not, we emulate what we saw and experienced. Thankfully, we have the ability to reshape the imagery of what our children see.
What should a child see in their dad? Dozens of attributes could be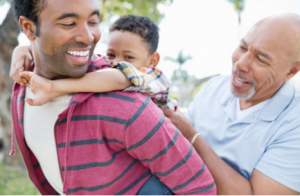 cited. The superlative example could be the figurehead of whatever faith one may practice. For me, it would be Christ. But let's set aside divinity for a minute, and let's develop a portrait of a father who is a man – with faults and fragilities – but who rises above those limitations. Values such as compassion, integrity, honesty etc. obviously make any well-meaning dad's list.
There are absolute positives a child should see in their dad's life.
Here are the attributes I would cite; indeed, the values I try to live up to in fathering my own ten year-old son.
Resolve Conflict
This is probably the most difficult item on my list. The ability to resolve conflict is arguably a dad's toughest assignment – especially when co-parenting with a hostile mother. Difficult, but not impossible.
Understand that you are not as much resolving conflict now as you are teaching your child much-needed skill-sets for the future. How you determine to reconcile differences with any person go a long way to equipping your child to do likewise.
Worship
Worship is foundational to a child's development. A child who witnesses his dad worship a Higher Power – and who joins him in that worship experience – is learning something about a bigger cause. He or she will grow up knowing that they are part of a greater whole and this will reinforce their desire to share their talents and their own sense of power with the world.
Care for the Body
In our community, a dad who believes in caring for his Temple – as well as his mental and spiritual faculties – sends an important message about responsibility. Too many of our mothers and fathers are in ill-health; our life expectancy is the lowest of all ethnic groups.
A child will learn the indispensable lesson that their body is indeed their Temple and will equip themselves to reverse the generations-long history of negative health outcomes for their particular lineage. Healthy children will parrot a health-conscious adult.
Advocate
An advocate is one who stands for a cause. A dad who does not stand for something will fall for anything. Something as simple as volunteering at their child's school speaks volumes about where a dad stands on issues of advocacy and education.
Having conversations with your child about social issues such as world poverty and hunger will instill an understanding and thirst for your child to make a difference.
Treat Women with Respect
Closely aligned with resolving conflict is treating women with respect. This means a dad must go against the grain of societal tendency and refuse to refer to women with the patriarchal jargon that currently dominate the national conversation.
It also means performing simple acts such as opening a door for a woman, standing when a woman approaches or leaves a table or simply referring to women with positive language.
In our society, a child must see his or her dad act the roles and responsible behaviors they themselves will one day will be expected to uphold.
Staff Writer; W. Eric Croomes
This talented brother is a holistic lifestyle exercise expert and founder and executive coach of Infinite Strategies LLC, a multi-level coaching firm that develops and executes strategies for fitness training, youth achievement and lifestyle management. Eric is an author, fitness professional, holistic life coach and motivational speaker.
In October 2015, Eric released Life's A Gym: Seven Fitness Principles to Get the Best of Both, which shows readers how to use exercise to attract a feeling of wellness, success and freedom (Infinite Strategies Coaching LLC, 2015) – http://www.infinitestrategiescoaching.com.